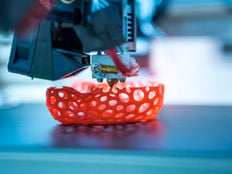 Disruptive Technology Channel
3D printing is one of the forefathers of the disruptive technology realm. A result of that status is that it's one of the first to intersect with other industries — a playbook it is arguably mastering.
That underscores opportunity with the 3D Printing ETF (PRNT B-) — the original exchange traded fund dedicated to 3D printing equities. One of two passively managed ETFs in the ARK Investment Management stable, PRNT debuted in July 2016 and follows the Total 3D-Printing Index.
PRNT's longevity is pertinent in that the ETF has been around for some noteworthy advancements in 3D printing technology, including some pertaining to sophisticated healthcare procedures. For example, researchers at the Massachusetts Institute of Technology (MIT) recently developed a 3D printed replica of the human heart.
"The team can then direct the activity of the replica to imitate the patient's blood-pumping capabilities. With this custom robotic heart, the team hopes to assist doctors in tailoring treatments to patients' heart-related forms and functions. The soft robotic models are patient-specific and may aid clinicians in choosing the ideal implant for a particular patient," according to 3D Printing Industry.
With heart disease long ranking as one of the leading causes of death in the U.S., MIT's aforementioned advancement could have positive implications for patients and investors alike. While there's a long way to go on this front, MIT's initial steps could be encouraging for PRNT investors.
"Being able to match the patient's flows and pressures was very encouraging. We're not only printing the heart's anatomy but also replicating its mechanics and physiology. That's the part that we get excited about," Professor Ellen Roche told 3D Printing Industry.
The increasing healthcare use case is relevant to PRNT investors because 3D printing in the healthcare arena can serve the dual benefit of improving patient outcomes while driving costs down. Additionally, it can aid clinicians in providing more precise diagnoses while potentially mitigating some of the risks associated with invasive procedures.
MIT's work on the 3D printed replica heart is one of example of the concepts mentioned above and it could be an example of a broadening runway for 3D printing's expanding healthcare use case.
"The researchers can also compress the vessel by inflating an independent sleeve surrounding a 3D printed aorta. The team claims that this narrowing can be tuned to imitate aortic stenosis, an ailment in which the aortic valve narrows, requiring the heart to exert more effort to force the blood to circulate through the body," concluded 3D Printing Industry.
For more news, information, and analysis, visit the Disruptive Technology Channel.