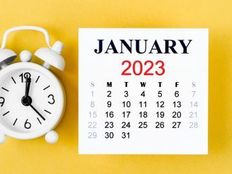 Disruptive Technology Channel
While 2022's broad market selloff was led by tech, January has in turn been a strong performance month for disruptive technology-focused ARK Invest and its suite of ETFs. The firm's ARK Innovation Fund (ARKK B+) had its best single month of performance in January, returning 30% according to VettaFi. The fund was joined by its sibling strategies, the ARK Next Generation ETF (ARKW C+) and the ARK Fintech ETF (ARKF B-), in the 10 top-performing ETFs for the last week.
| Ticker | Name | 1 Week Return |
| --- | --- | --- |
| (NVDL ) | GraniteShares 1.5x Long NVDA Daily ETF | 21.84% |
| (VCAR ) | Simplify Volt RoboCar Disruption and Tech ETF | 19.75% |
| (PP ) | Meet Kevin Pricing Power ETF | 12.93% |
| (TSLY ) | YieldMax TSLA Option Income Strategy ETF | 11.72% |
| (ARKW ) | ARK Next Generation Internet ETF | 11.30% |
| (ARKF ) | ARK Fintech Innovation ETF | 11.05% |
| (WGMI ) | Valkyrie Bitcoin Miners ETF | 10.74% |
| (ARKK ) | ARK Innovation ETF | 10.66% |
| (FDRV ) | Fidelity Electric Vehicles and Future Transportation ETF | 9.65% |
| (SFYF ) | SoFi Social 50 ETF | 9.60% |
The strong January for ARK may be due to investors looking to get in early for a buy low opportunity on tech, as well as possibly reward the firm's unwavering intent to buy low on firms like Tesla (TSLA) and Coinbase (COIN), which have bounced back themselves. TSLA rose 37.4% over the last month after being down -43% over the last six months as its price cuts took a bite out of its electric vehicle rivals while a thaw in the crypto winter drew investors to COIN.
The trio of ARKW, ARKF, and ARKK returned 11.3%, 11.1%, and 10.7% respectively over the last week, but it was the GraniteShares 1.5x Long NVDA Daily ETF (NVDL ) that took the crown for best returns for the week with 21.8%. Following behind it was the electric vehicle-focused Simplify Volt RoboCar Disruption and Tech ETF (VCAR C) returning 19.8% over one week, while the Meet Kevin Pricing Power ETF (PP C+) finished third with 12.9%.
PP presents an interesting case as the first ETF tied to YouTuber Kevin Paffrath, a.k.a. Meet Kevin. The ETF actively invests in U.S. firms identified as innovative by the sub-advisor. The ETF has also added $4.9 million in net inflows over the last month.
Electric vehicles and bitcoin proved to be strong themes for ARK Invest for the last week, and they did for other ETFs in the top 10 as well. Whether those themes will extend their rebound past this month remains to be seen, but for now, they've flipped the script on a tough end to 2022. A strong January for ARK could also be a platform for that firm for a better 2023 — pending the Fed's plans for rate hikes.
For more news, information, and analysis, visit our Disruptive Technology Channel.