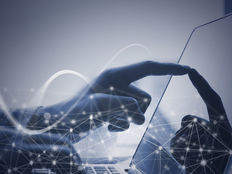 Disruptive Technology Channel
Coming off a year in which it gained almost 36%, the ARK Web x.0 ETF (ARKW ) could be poised to deliver for investors again in 2020, particularly if some well-known internet stocks deliver on speculated surprises.
One of the best-performing equity-based actively managed ETFs over the past several years, ARKW has made a habit of trouncing passive rivals although the ARK fund isn't heavily allocated to internet darlings such as Amazon.com (AMZN) and Facebook (FB), among others. ARKW allocates almost 5% of its combined weight to Netflix (NFLX) and Amazon and its largest is Tesla (TSLA) at 10.42%.
Still, ARKW is sufficiently levered to themes RBC Capital internet analyst Mark Mahaney recently highlighted that could benefit some of the fund's holdings.
"Netflix subscribership accelerates in 2020: Mahaney sees this more as a possibility than a probability. It certainly would run counter to the conventional wisdom,". He noted that in the U.S., comparisons will be relative to a year in which Netflix increased its prices materially, and reduced marketing spending. The company also is likely to benefit in 2020 from a further crumbling of cable and satellite subscriptions, Mahaney said.
ARKW Angles
The analyst also sees some of 2019's crop of unicorn initial public offerings, such as ARKW holding Pinterest (PINS), finding profitability in 2019. Conversely, Amazon could see margin compression as it seeks new growth frontiers that could benefit the company over the long haul.
"Amazon's profitability plummets. Mahaney says the company could aggressively invest in one-day delivery, physical stores, and the sales force at its Amazon Web Services business, potentially leading to a near-term decline in operating margins," according to Barron's.
Zillow (Z), ARKW's seventh-largest holding at a weight of 3.40%, is another of the fund's components that could rally in 2020 as the "iBuyer" real estate space grows and perhaps becoming profitable.
"This is the newly emerging niche of buying and flipping homes. Mahaney notes that the business has been growing rapidly but unprofitably so far. He says that as a result of economies of scale in buying, selling, holding, and improving homes, there could be a shift that would allow the businesses to become modestly profitable," reports Barron's.
This article originally appeared on ETFTrends.com.
---
Content continues below advertisement