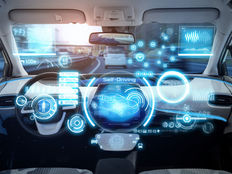 Disruptive Technology Channel
On the surface, the ARK Autonomous Technology & Robotics ETF (ARKQ ) appears to be a growth/momentum ETF, and while that assessment isn't entirely off base, ARKK is also a bet on disruptive technologies of tomorrow that are booming today.
The actively managed ARKQ, as its name implies, marries multiple disruptive themes, including autonomous vehicles and automation and robotics, but ARKQ's managers at ARK Investment Management have the flexibility to access other compelling market niches, such as 3D printing, energy storage, and space exploration.
The $151 million ARKQ currently holds 37 stocks, but it can hold as few as 30 and up to 50. ARKQ is known in large part for its nearly 12% weight to Tesla (TSLA), one of the largest weights to that stock among all ETFs and that's a potentially beneficial allocation for ARKQ investors not just because Tesla shares are soaring right now, but because autonomous vehicles could arrive over the next few years.
"Some of the recognizable names looking to capitalize on the self-driving taxi business include Uber, Lyft, Tesla and Waymo under Alphabet-subsidiary Google (GOOGL). The driverless arena known as MaaS, or "mobility as a service," could represent a $160 billion total addressable market by 2030," according to CNBC.
Don't Forget These Markets
With ARKQ's current configuration, the fund tilts toward autonomous vehicles and robotics and automation opportunities, but the ties to space exploration are notable as well.
Tesla CEO Elon Musk has already been touting the idea of establishing a livable colony on Mars and now, the National Aeronautics and Space Administration is ready to fund autonomous space habitats that will provide support to astronauts during exploration missions.
NASA's idea is the creation of a multi-university Space Technology Research Institute called Habitats Optimized for Missions of Exploration (HOME). The goal of HOME is to advance the design of autonomous systems for space habitats. ARKQ's robotics/AI exposure also levers the fund to the space investment opportunity set.
Related: Keeping Up With Tech Means Considering Disruptive ETF Options
Artificial intelligence and machine learnings are already making its way into other sectors and it's only fitting that space exploration also gets touched by the technology. If the goal is to eventually have humans living elsewhere other than the Earth, autonomous systems can help make that a reality.
ARKQ is off to an impressive start in 2020, gaining 4.20% since the start of the year.
This article originally appeared on ETFTrends.com.
---
Content continues below advertisement