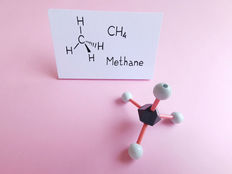 Disruptive Technology Channel
Let's face it – it's tough to be in crypto right now. While the broader market has been pummeled by challenges like inflation and rising rates, the crypto industry, already in a crypto winter, has suffered some high-profile scandals and setbacks. That doesn't mean there isn't a role for crypto in future portfolios, and crypto engineers are still finding ways to innovate – with one possible case for Bitcoin optimism found, surprisingly, in methane emissions.
Methane, while less outright harmful than carbon dioxide, still is contributing to global climate change – but while it's burning, it could also be reused to mine Bitcoin, getting more bang for each fossil fuel buck. That's according to recent research from ARK Invest, which shows that as firms haven't sunk costs into flared systems en masse, vented methane could be used at well sites to mine Bitcoin.
The electricity generation required to mine Bitcoin via venting would also cost much less than it does currently for public Bitcoin mining companies, and when assuming no supply issues for hardware, Bitcoin miners could undercut "pure play" miners by using vented methane.
That could increase the return on investment for oil and gas fields and also unlock a new phase for Bitcoin mining writ large, supporting firms like Coinbase (COIN) which could see heightened traffic. Already down from crypto's struggles, ARK Invest has been buying the dip on COIN, with the stock weighted at 6.9% in the ARK Fintech Innovation ETF (ARKF B-) and 4.7% in the ARK Next Generation Internet ETF (ARKW C+).
ARKF charges 75 basis points and actively invests in firms poised to benefit from fintech advances in services like mobile payments, the blockchain, and customer platforms. ARKW meanwhile charges 88 basis points for its active investing, looking at companies set to benefit from advances in cloud computing, big data, AI, and more.
Bitcoin and other cryptocurrencies have taken a wallop lately, and that's true. That doesn't mean that the tide of innovation has stopped, with reusing vented methane one case for Bitcoin optimism to watch moving forward in ETFs like ARKF and ARKW.