Disruptive Technology Channel
Tech has been one of the hottest investment areas for the past few years, and in part perhaps that can be credited to the impact technology has in our daily lives. The spread of online shopping or the grand entrance of OpenAI's ChatGPT got widespread attention, for example, and ETFs investing in those areas responded. Biotech may be less obvious, but it's also riding a tide of tech advancement as seen in the rising biotech ETF (HTEC B), the ROBO Global Healthcare Technology and Innovation ETF.
Why biotech? Especially as the Fed raised rates once again Wednesday, it may not be immediately clear why investors would flock to stocks from cutting-edge firms that have yet to necessarily deliver future profits from new drugs or advanced surgeries. That hasn't stopped investor interest in funds like HTEC, however. The fund actually rose above both its 50-day and 200-day simple moving average (SMA) Wednesday, according to YCharts.
The rising biotech ETF's new price of around $30.57 as of the late afternoon is well above both averages which sit at $29.65 and $29.76, respectively. So why the burst of investor attention? It may well be that investors believe that the bad news and looming recessionary turbulence are already priced in.
If so, the thinking goes, the cutting-edge approach in an ETF like HTEC, which tracks the ROBO Global Healthcare Technology and Innovation Index, could have plenty of upside at such a low price relative to where biotech was last year and in years prior.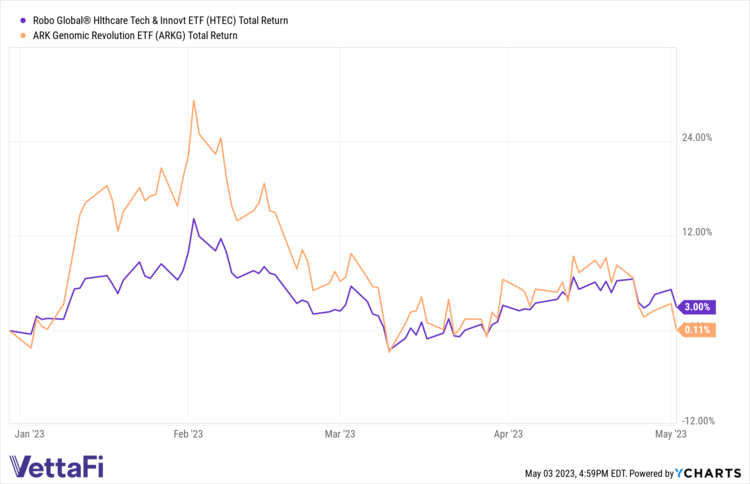 HTEC invests in global healthcare tech names that are flagged for ties to diagnostics, lab process automation, regenerative medicine, and more. Robo Global picks 50 to 100 names with high revenue scores from those and other biotech areas and invests accordingly, charging 68 basis points.
HTEC has returned well on a YTD basis and may be worth watching if it can ride its tech indicator through a tumultuous back half of 2023. For those interested in a rising biotech ETF, HTEC may be one to keep an eye on.
For more news, information, and analysis, visit our Disruptive Technology Channel.
vettafi.com owned by VettaFi LLC ("VettaFi"). VettaFi is the index provider for HTEC, for which it receives an index licensing fee. However, HTEC is not issued, sponsored, endorsed, or sold by VettaFi, and VettaFi has no obligation or liability in connection with the issuance, administration, marketing, or trading of HTEC.
---
Content continues below advertisement