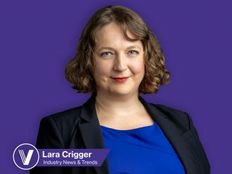 Disruptive Technology Channel
Which research themes and topics are trending among advisors? That's the focus of my talk at Exchange on Monday, "Tickers, Themes, and Trends, Oh My! Top Research Insights of 2023," where I'll present some of the latest trends we're seeing across the VettaFi platform. 
As a sneak peek, let's dive into January's rising ETF stars, or the top 10 ETFs that saw the most significant month-over-month rise in advisor engagement on the VettaFi platform. 
As I explained for the Rising ETF Stars of 2022, advisor engagement is a proprietary metric created to help us better understand what financial advisors are researching and why. As a means to separate signal from noise, advisor engagement data can help us spot which areas of inquiry are on their way toward becoming broader market trends. Plus, where engagement rises and falls, so too do flows tend to follow. 
Category Outperformance Lifts Rising ETF Stars
Below is a table of the top 10 ETFs that saw the most significant month-over-month increase in advisor engagement, ending January 26, 2023.
To arrive at this list, I started with the totality of the U.S.-listed ETF market, more than 3,000 ETFs, then whittled down the sample set to include only ETFs with $100 million in assets or more (since that's the threshold that often unlocks an ETF's ability to appear on most advisor platforms). I also removed any ETF with a track record shorter than 12 months, and those which exhibited statistically insignificant engagement data.
---
Content continues below advertisement
| VettaFi's Top 10 Rising ETF Stars of January 2023 | | | |
| --- | --- | --- | --- |
| Ticker | AUM ($MM) | 30-Day Fund Flows ($MM) | % M-o-M Change In Engagement |
| EZU | $6,950 | $278 | 183% |
| FEZ | $2,323 | $189 | 131% |
| AIEQ | $103 | ($1) | 124% |
| ACWX | $4,529 | $0 | 121% |
| VEU | $35,446 | $32 | 98% |
| GLDM | $5,715 | $258 | 92% |
| PFFA | $537 | $13 | 92% |
| EEMV | $6,899 | ($1,657) | 91% |
| EWW | $1,196 | $24 | 89% |
| AAXJ | $3,072 | $28 | 88% |
Source: VettaFi
You might have already spotted the obvious: The iShares MSCI Emerging Markets Min Vol Factor ETF (EEMV A) was the only rising ETF star to exhibit sizable outflows over the period measured. Notably, it was also the only fund of the lot that hadn't outperformed its FactSet category peers. 
Which makes sense. When it comes to flows, returns matter — a lot. They also matter for driving engagement, as strongly trending performance (in either direction) tends to drive research volume.
Europe Gets Its Groove Back With Investors
Another key observation we can make: International ETFs of all stripes are currently seeing a strong surge in research interest, as investors seek solace overseas from choppy U.S. markets. Setting aside EEMV, which saw big outflows, the international funds on January's rising ETF stars list brought in more than $500 million in new cash.
Engagement rose most for Eurozone ETFs, as slowing inflation has made the region more attractive to investors. The iShares MSCI Eurozone ETF (EZU B+) and the SPDR EURO STOXX 50 ETF (FEZ B+), the two largest ETFs focused on Eurozone equities, saw month-over-month engagement increases of 183% and 131%, respectively.  
Yet all-world ex-U.S. ETFs are witnessing increased research volumes, as well. The iShares MSCI ACWI ex-US ETF (ACWX A-) and the Vanguard FTSE All-World ex-US Index Fund (VEU A) witnessed engagement increases of 121% and 98%, respectively. 
Intriguingly, of the two, ACWX is more heavily tilted toward developed markets compared to emerging ones and tends to favor European stocks over Japanese exposure. Given spiking interest in European funds, this could account for ACWX's higher relative engagement score, despite having an expense ratio more than four times higher than VEU's. 
Even lower-profile international ETFs have been gaining steam. The iShares MSCI Mexico ETF (EWW A) witnessed an engagement rise of 89%, while research volumes for the iShares MSCI All Country Asia Ex-Japan ETF (AAXJ A-) rose 88%. 
Gold Exposure, At A Lower Price Point 
The rest of the Rising ETF Stars reflect several parallel, headline-driven trends. 
For example, take the SPDR Gold MiniShares Trust (GLDM ), which saw engagement rise 92% month over month. Gold prices have been rocketing upwards since last November, hitting $1,959/ounce during the day on February 2. As a result, interest — and flows — into gold ETFs have spiked.
As the largest and most liquid gold ETF, the SPDR Gold Trust (GLD A-) remains a popular method of access for investors, but with a handle of $177.90/share as of Thursday's close, it's an expensive ETF to buy into. Meanwhile, GLDM offers functionally the same exposure as its older sibling GLD, except with a smaller gold per share allotment. That in turn reduces its handle ($37.96/share), which can make it more appealing for smaller lot investors, because more shares can be purchased with the same amount of cash. Over the period measured, GLDM brought in over $258 million in net flows.
ChatGPT Inspires Investors To Investigate AI ETFs
The media frenzy around artificial intelligence technologies like ChatGPT has gotten some investors thinking: "I wonder if there are ETFs that use AI to build portfolios, too?"
The answer is: Yes. The oldest and perhaps most high-profile of these is the AI Powered Equity ETF (AIEQ C+), which uses predictive models to select U.S. large-cap stocks for its portfolio. Month-over-month, engagement for AIEQ rose 124%. 
But don't confuse AIEQ for an ETF that focuses on the AI and robotics industry, like the ARK Next Generation Internet ETF (ARKW C+). AIEQ and ARKW's exposures are very different: AIEQ's top three sector exposures are finance (19%), consumer services (16%), and health technology (14%), while ARKW's top three exposures are tech services (56%), consumer durables (13%), and finance (8%). 
For what it's worth, flows into AIEQ were slightly negative for the 30 days measured. In contrast, ARKW saw $28 million in inflows.
Active Management In Preferreds Leads To Strong Returns 
For months, preferred stocks have been a popular destination for yield hunters, as the hybrid security has offered higher yields than junk bonds and better performance than stocks, too. Especially in a rising rate environment, preferreds' muscular yields can offer some cushion for portfolios against the impact of Fed hikes — and Powell and company are showing no signs of slowing down. 
Of all non-leveraged/inverse preferred stock ETFs, the actively-managed Virtus InfraCap U.S. Preferred Stock ETF (PFFA B) has exhibited the strongest year-to-date returns (up 20%), with a yield north of 7.6%.  Perhaps unsurprisingly then, PFFA has also seen a monthly engagement rise of 92%. 
Learn More About Investor Research Insights At Exchange!
If you want to learn more trending topics and themes in advisor research, I invite you to check out my session, "Tickers, Themes, and Trends, Oh My! Top Research Insights In 2023" at the Exchange conference on Monday, February 6 at 11:30 AM. 
You can also keep your eyes on the front page of ETF Trends and ETF Database for same-day coverage of this session, as well as all the happenings around Exchange, throughout next week. 
I hope to see you there!