Disruptive Technology Channel
In addition to offering diversified exposure to traditional sectors of the market, ETFs also allow investors to tap into lucrative industries that may otherwise be too risky to access on their own. 3-D printing is one such industry that has captivated countless investors, and for good reason. This revolutionary technology promises to change how consumers and businesses behave, allowing customers to create their own products. However, this industry that has the potential to change everything has remained rather inaccessible for investors during its primary development
What Exactly is 3-D Printing and Why Will it Change the World?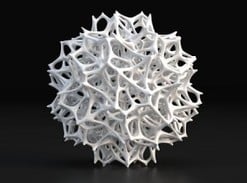 The principal concept of 3-D printing, also known as additive or rapid manufacturing, is to create a solid object of virtually any shape from a digital model. This is achieved through the successive layering of materials to form the literal building blocks of an object. The most common material used in the building process is molten plastic, which is quick to cool and solidify in order to maintain the desired shape.
While this relatively new technology has excited minds around the world and promises big changes, there are important factors to remember. Rapid manufacturing is actually not that new of an idea and has been in existence since the late 1980s. The technology only gained public traction in the last decade or so. While it is an important fabrication technology, it is unlikely that 3-D printing will replace modern manufacturing in the next few years.
The machines, materials and software are still in development and probably will not be seen on a large scale for at least a decade. Even with these current limitations, investors have seen the potential in the technology. Those looking to get into this growing industry have a couple of ETF investing options [see also Ten Commandments of ETF Investing].
Which ETFs are "3-D Ready"?
Hewlett Packard Company (

HPQ

): This computer and printer manufacturer has had its eye on 3-D printing for the last few years. While its main business has been suffering from poor sales and substandard development, the massive company has the ability to raise resources behind this new technology and may soon do so. There are currently three ETFs with exposure to HP, with Tiedemann Wealth Management's Deep Value

ETF

(

DVP

) and First Trust's

NASDAQ

Technology Dividend Index Fund (

TDIV

) holding the largest stakes [see S&P 500 Visual History].
Autodesk Inc. (

ADSK

):

NASDAQ

100 listed Autodesk as another one of the leading players in the 3-D printing sector. This quickly expanding group is most heavily involved in the software side of 3-D printing, but it's not contained to this small market. The company is working on software for the architecture, engineering, construction, manufacturing and entertainment industries. Investors will find this stock is a major component of

ARKQ

and iShares' North American Tech-Software

ETF

(

IGV

).
---
Content continues below advertisement
The Bottom Line
These quickly evolving firms have caught the public attention in the last decade with their game-changing ideas. There are a number of 3-D printing companies that have yet to gain recognition from ETFs, but as the technology continues to grow, this is likely to change. Investors looking for future exposure should scope out small-cap growth and technology ETFs that are likely to quickly adapt to the growing industry.
[For more ETF analysis, make sure to sign up for our free ETF newsletter]
Disclosure: No positions at time of writing.