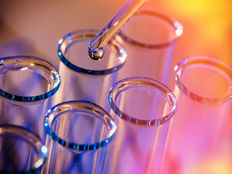 Disruptive Technology Channel
While the headlines have focused on a crypto winter, it hasn't exactly been an easy year for biotech. The sector that blossomed amid a global pandemic has struggled with the pandemic easing and rates rising. But with a recession looming for equities overall, innovations accessible in a biotech ETF for 2023 like the could buoy investors' portfolios in the new year.
Traditionally, health and healthcare-related sectors have been defensive plays in difficult times. That appears to be happening again as asset managers look at the space for 2023, which could have knock-on benefits for biotech.
But more importantly, even as the sector takes a step back from 2021's highs, biotech firms haven't stopped innovating. There are serious breakthroughs and product approvals just on the horizon from some of biotech's biggest names, which could help equity portfolios available next year in a biotech ETF like ARKG.
For example, one of the most notable biotech names, Crispr Therapeutics (CRSP), has taken some real losses this year, but is . The firm's submission of its exa-cel blood disorder gene treatment to regulators in the U.S. is expected to be completed in Q1 next year.
The treatment would be a big addition to a limited set of options for people facing sickle cell disease, and a big win for CRSP and its gene-editing work. Another firm, Teladoc (TDOC), has seen paid U.S. members and revenue per member grow each quarter this year, and it may be well positioned for this winter's serious spread of respiratory viruses on top of flu season.
Furthermore, Amazon (AMZN) launched its Amazon Omics service earlier this week, a data analytics and bioinformatics workflows hub that could benefit all kinds of biotech firms.
ARKG holds both of these securities at respectable weights, with TDOC the fourth-largest at 4.4% and CRSP at 3.8%. The actively-managed ETF looks for those firms that will benefit from serious innovations in areas like genetics and molecular diagnostics, and charges a 75 basis point fee. With other equities under pressure, investors looking for a biotech ETF for 2023 that focuses on innovation may want to keep an eye on ARKG as we enter the new year.
For more news, information, and analysis, visit the .