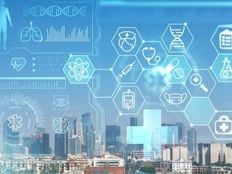 The healthcare sector, the second-largest sector allocation in the S&P 500, performed significantly less poorly than the broader market in 2022 and that relative sturdiness has some market observers optimistic about the group's 2023 prospects.
With that in mind, investors may want to evaluate exchange traded funds such as the as tactical ideas in the new year. After all, history, and recent history at that, indicate healthcare stocks can be resilient in the face of macroeconomic headwinds.
"The reason it did so well is that people still need to pay for health insurance, drugs, and vaccines even when they are watching how much they spend. Profits in the sector tend to be stable even when hard times crimp earnings elsewhere, so the current environment, with its high inflation and rising interest rates, is a chance for the shares to shine," .
As 2023 unfolds, HART investors could discover multiple factors working in their favor. For example, the ETF's healthcare holdings, broadly speaking, are quality stocks with strong balance sheets and, in many cases, storied histories of dividend growth. Plus, investors don't have to incur a valuation tax to embrace this ETF's benefits.
"The good news is that some healthcare stocks, especially those of biopharma companies, still appear relatively cheap. In aggregate, prices of pharma stocks in the S&P 500 are at multiples of earnings about 10% below the S&P 500's roughly 16 times, according to UBS data," noted Barron's.
Another issue that could work in favor of HART this year is coronavirus vaccine fatigue. That doesn't imply diminished importance or relevance of the vaccine. Rather, investors are likely to demand more from pharmaceutical and biotech companies than COVID-19 treatments. Fortunately, many of HART's pharma components have deep product pipelines or have the cash to make acquisitions to bolster those pipelines. Others have the benefit of long-running patent protection before generic producers can bring competing products to market.
Then there's the earnings story. Analysts are expecting a majority of the 11 global industry classification standard (GICS) sectors will post lower earnings growth this year. It remains to be seen if the broader healthcare sector can avoid that dubious distinction, but what's not up for debate is the fact that analysts expect several of HART's marquee pharma holdings will post growing earnings per share (EPS) this year.