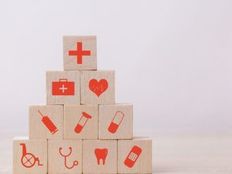 With just two trading days left in 2022, it's safe to say the healthcare sector was significantly less bad than the broader market. As of December 27, the S&P 500 Health Care Index was down just 2.2% year-to-date compared to nearly 19% for the S&P 500.
That could be a sign that exchange traded funds such as the could be poised for better things in the new year. Focusing on what supported outperformance in 2022, the healthcare sector was bolstered by some of its largest constituents, including several HART member firms.
Among HART's advantages entering 2023 is that aside from a 5.2% allocation to Pfizer (NYSE:PFE), the ETF isn't heavily dependent on coronavirus vaccine makers. Regarding Pfizer, that company has a deep pipeline and several years of patent protection confirming it's about much more than the COVID-19 vaccine.
This "was the year where companies that didn't benefit that much from Covid-19 tended to outperform. In 2021, the biggest gainers were, naturally enough, the vaccine-makers, with and more than doubling in value while added 60%. All three vaccine-makers are down this year, as a return to normal benefits the rest of the sector," .
Another reason HART could be a viable consideration for tactical investors in 2023 is the specter of more market volatility — something healthcare stocks can help investors grapple with. Year-to-date, the S&P 500 Health Care Index is about 400 basis points less volatile than the S&P 500.
Add to that, not only are HART components such as Novartis (NYSE:NVS), AstraZeneca (NASDAQ:AZN), Eli Lilly (NYSE:LLY), and Dow component Johnson & Johnson (NYSE:JNJ) not known for extreme bouts of volatility, but they are known for quality traits, including dividend growth.
HART could also be in focus in 2023 amid expectations that consolidation will return to the healthcare sector in earnest, which is relevant to the ETF because many of its healthcare holdings are cash-rich companies with appetites for acquisitions when the right deal presents itself.
"In all, next year could bring M&A deal value in the pharma and life-sciences space to somewhere in the range of $225 billion to $275 billion, PricewaterhouseCoopers . With so much dry powder and plenty of targets to look at, deal-making next year looks set to heat up," .
For more news, information, and strategy, visit the .