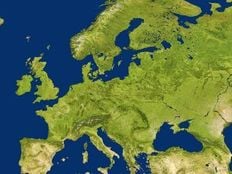 European equities are outpacing U.S. rivals this year, breathing fresh life into a long moribund asset class. That's good news for market participants looking to add some international diversification to U.S.-heavy equity portfolios.
On the hand, after a long period of lagging domestic stocks, European equities may not be high on many investors' shopping lists. That indicates that prudence and selectivity are warranted. One way of exercising those traits is via exchange traded funds such as the (IQSI B+).
IQSI follows the IQ Candriam ESG International Equity Index and is not a dedicated Europe ETF. However, it can be viewed as an environmental, social, and governance (ESG) alternative to MSCI EAFE Index-tracking funds, and as such, the ETF features significant exposure to developed Europe stocks. A variety of fundamental factors indicate that IQSI's European allocations could benefit investors this year.
"On valuation, the MSCI Europe Index still looks quite inexpensive on a next 12 month forward PE of 13, however the same ratio for Europe's median stock has risen to 16, which is at the upper end of its historic range. Admittedly, a less padded safety cushion is not necessarily a problem if the fundamental economic and earnings trends continue to improve. However, there is now considerably less margin for any disappointment going forward," noted Graham Secker, head of Morgan Stanley's European Equity Strategy Team.
While IQSI is an ESG fund, that doesn't mean it's short on exposure to cyclical sectors, which is an important trait because those are the groups leading the European equity resurgence. IQSI allocates a combined 43.4% of its roster to financial services, industrial, and consumer cyclical stocks.
"This rebound in European equities has been led primarily by cyclical sectors who have outperformed their defensive peers by nearly 20% over the last six months. Historically, this pace of outperformance has tended to be a good sign, suggesting that we had started a new economic cycle with further upside for cyclical stocks ahead," added Secker.
The Morgan Stanley strategist sounded a constructive tone on Germany. The Eurozone's largest economy accounts for 7.7% of IQSI's roster. Other geographic highlights offered by IQSI include a 14.65% weight to the U.K., where stocks are inexpensive, and a 9.7% allocation to Switzerland. That country is one of the least volatile, most quality-rich European equity markets and has a long history of dividend growth.
For more news, information, and analysis, visit the Dual Impact Channel.