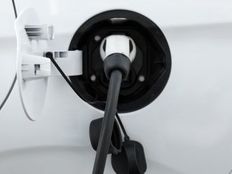 Shares of electric vehicle behemoth Tesla (NASDAQ:TSLA) tumbled last year, and that weakness is extending into 2023, as the stock is lower since the start of the year despite a strong showing last week. The stock's slump could be the result of a variety of factors, including Elon Musk's purchase of Twitter. Specific to the electric vehicle (EV) industry, investors may be concerned that Tesla won't be able to ward off increasing competition in the electric vehicle space or that implementation of government tax credits will be bumpy.
Still, data suggest that U.S. adoption of electric vehicles is increasing, which could be a long-term positive for Tesla and exchange traded funds such as the )+. CLNR follows the IQ Cleaner Transport Index, and while Tesla is one of the ETF's holdings, CLNR's fortunes are determined by that stock. Rather, the fund is a broad play on the electric vehicle ecosystem, confirming its relevance as a play on soaring adoption of this technology.
"When the new tax credits were first announced as part of last summer's Inflation Reduction Act, it seemed like they might not have much effect. The headline consumer subsidies came with such tight strings attached that 70% of the 72 plug-in models on sale at the time were immediately ineligible," reported Stephen Wilmot for the Wall Street Journal.
The Inflation Reduction Act contains a stipulation that the tax credits are only applicable to North American-produced electric vehicles. In theory, that could be a drag on CLNR, which is heavy on ex-U.S. auto producers. However, there's a silver lining.
"But loopholes have emerged. The biggest one appears to be leasing, thanks to a separate tax credit for commercial fleet buyers that comes with no strings attached. Guidance released by the Internal Revenue Service late last month implied that this benefit could be passed onto consumers via leases," according to the Journal.
That's relevant to investors considering CLNR because some of the ETF's components, including Mercedes, Volkswagen, Toyota, and BMW, are foreign auto makers that market electric vehicles in the U.S.
Some of those companies and Tesla are marketing electric vehicles to luxury buyers, meaning that leasing could be a more attractive form of financing. More buyers gravitating toward leases could put more EVs on the road.
"More expensive EVs made in North America might benefit too, given the price caps imposed by the consumer tax credit: $55,000 for cars and $80,000 for sport-utility vehicles, vans and pickup trucks," concluded the Journal.
For more news, information, and analysis, visit the Dual Impact Channel.