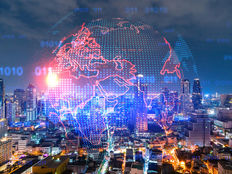 One of Matthews Asia's new active ETFs has seen a considerable increase in investor attention.
The Matthews Asia Innovators Active ETF (MINV ) saw a significant rise in trading volume beginning on November 29 and remained elevated through December 2, coupled with significant inflows. MINV has increased by 13% in the past month.
"Investors are increasingly willing to take on more risk heading into 2023 including looking to emerging markets for growth stocks," Todd Rosenbluth, head of research at VettaFi, said.
Over 1.2 million shares of MINV were exchanged during the four trading days between November 29 and December 2. The fund's average volume over one month is 71,805, increasing significantly in the past week. MINV saw $38 million in inflows between November 30 and December 6, according to ETF Database.
MINV has $65 million in assets under management, highlighting the liquidity available in ETFs regardless of size.
MINV previously saw a spike in trading volume on October 14, when MINV saw 520,000 shares exchanged, demonstrating institutional demand for active ETFs and confidence in Matthews' ability to sort through the emerging market universe, Rosenbluth said in October. The fund saw another big trading day on October 20, in which 146,000 shares were traded.  
With a high conviction and a concentrated equity portfolio, MINV invests in innovative companies in Asia ex-Japan, capitalizing on the new economy and rising disposable income in the region. The fund takes an all-cap fundamental approach and is focused on companies with unique offerings that create or expand markets. The fund currently offers exposure to China/Hong Kong, India, South Korea, Indonesia, Singapore, Taiwan, Vietnam, and the United States.