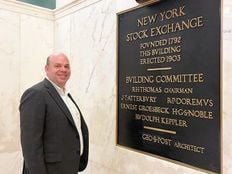 Energy Infrastructure Channel
Dividend cuts are rare, but when some high-profile companies announce major reductions, as occurred in February 2023, it is important to put the news in perspective and be reminded of the benefits of diversification. 
In February, semiconductor company Intel slashed its dividend by 66%, apparel firm VF Corporation hacked its dividend by 41%, and gold miner Newmont cut its dividend by 27%. Those are some whiplash-inducing moves. 
However, according to S&P Dow Jones Indices, in the 12-month period ended February 2023, there were 384 dividend increases in the S&P 500 and just five decreases — an absurdly high 96:1 ratio that alone should appease advisors worried about a rash of dividend reductions. 
Taking this a step further, there is a select group of S&P constituents with long records of dividend growth that are referred to as "dividend aristocrats." The (NOBL A-) provides easy access to a diversified pool of these upper-echelon dividend growers. NOBL owns shares of S&P 500 Index companies that have raised dividends for an impressive 25 straight years. However, even companies with long records of boosting dividend payments can make an unexpected change in policy, as evidenced by VF Corporation's cut after 50 consecutive annual hikes. 
Meanwhile, the (REGL A) owns stakes in more moderately sized companies that have raised their dividends for a still-strong 15 or more years. Notably, REGL's weighted average $7 billion market capitalization is considerably lower than NOBL's $90 billion, meaning they could experience more reward but also more risk. 
For those advisors wanting even more diversification, the (SDY A) owns S&P 500, S&P MidCap 400, and S&P SmallCap 600 constituents that have raised their dividends for 20 consecutive years.   
Though the three dividend growth ETFs are constructed differently, there are some similarities. For example, industrials stocks are heavily weighted, with each ETF having approximately 19% of assets in the sector. Meanwhile, the energy sector is underexposed, despite the recent performance run in the last couple of years. NOBL has just 3% of assets in the sector (less than the broader S&P 500's 5% stake), while SDY has 2%. Surprisingly, REGL does not own any energy companies.   
One of the reasons we think the energy positioning is light is the lack of ownership of master limited partnerships (MLPs) in the parent S&P indexes. MLPs are listed as ineligible organizational structures, along with business development companies, ETFs, and closed-end funds, according to the S&P Dow Jones methodology document for the above large-, mid-, and small-cap indexes.  
While there is no added explanation for the absence, MLPs may be excluded because their tax-advantaged structure adds some complexity, according to Stacey Morris, head of energy research at VettaFi. 
If an individual directly invests in an MLP, they will receive a K-1, but it is important to note that MLP ETFs and ETNs issue a user-friendly to investors.   
According to Morris, the MLP dividend trends have been positive, complementing already-generous yields that are north of 7%. By weighting, more than 90% of the (AMLP A-) increased payouts in the last year. 
Furthermore, (EPD) and (MMP) have each hiked their dividends for more than 20 consecutive years, making them dividend royalty in my book, even if not in S&P's. Advisors might want to pair AMLP with a dividend growth ETF like NOBL, SDY, or REGL to make sure they have appropriate exposure to the energy sector.  
For more news, information, and analysis, visit the Energy Infrastructure Channel.
VettaFi LLC ("VettaFi") is the index provider for AMLP, for which it receives an index licensing fee. However, AMLP is not issued, sponsored, endorsed or sold by VettaFi, and VettaFi has no obligation or liability in connection with the issuance, administration, marketing or trading of AMLP.