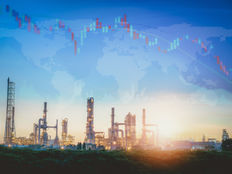 Energy Infrastructure Channel
The outperformed the broader energy sector in November as crude oil prices declined.  
ENFR's underlying index, the Alerian Midstream Energy Select Index (AMEI), gained 4.25% on a total-return basis in November, outpacing the Energy Select Sector Index (IXE), which increased 1.38% during the month. 
As U.S. benchmark oil prices declined -6.91% in November, midstream held steady due to the segment's unique role in the energy sector. Since midstream companies earn fees for services, leading to very stable cash flows, midstream tends to have less volatility and the least direct commodity price exposure when compared to other energy subsectors. Midstream predominately includes pipeline companies, which are those that perform the shipping and handling function in the energy value chain.  
Year-to-date through the end of November, the AMEI index is up 27.04% on a total-return basis, significantly outperforming the S&P 500's year-to-date decline of -13.10%. Despite its strong recent performance, the AMEI index is still trading at a discount to its three-year average forward EV/EBITDA multiple, according to data from Bloomberg. 
Dividend trends for midstream remain positive, as 19 out of 27 dividend-paying constituents in the AMEI index — representing more than 80% by weighting — have announced a dividend increase in the last year, according to Stacey Morris, head of energy research at VettaFi. 
During the third quarter of 2022, 14 constituents in the AMEI index collectively repurchased nearly $1.4 billion in equity. Despite volatility in oil prices, midstream has performed well amid high inflation and rising interest rates that have pushed other sectors downward.  
The positive momentum for energy infrastructure companies driven by macro and micro tailwinds can potentially continue into 2023, according to Morris. Generating free cash flow and returning excess cash to shareholders through dividends and buybacks remain key themes for midstream companies.  
For more news, information, and analysis, visit the Energy Infrastructure Channel / VettaFi| ETFDB.
vettafi.com  is owned by VettaFi, which also owns the index provider for ENFR. VettaFi is not the sponsor of ENFR, but VettaFi's affiliate receives an index licensing fee from the ETF sponsor.