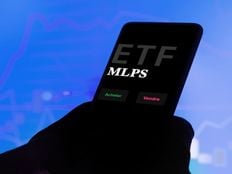 Energy Infrastructure Channel
MLPs demonstrated their resiliency during March, a month characterized by increased volatility in markets.
Concerns for the global economy and risk-off sentiment stemmed from the collapse of Silicon Valley Bank and the unfolding banking crisis, sending oil prices and energy stocks lower in March. MLPs and midstream stood out for their resilience in March, ending the month relatively flat.
As the month comes to a close, oil is off around 3% while natural gas prices have fallen roughly 23%. Meanwhile, MLPs are down less than 1%, highlighting midstream's defensive qualities.
"Although it was a volatile month, MLPs remained defensive and held up better than other energy subsectors when oil prices fell roughly 5% each day on March 14 and 15," Stacey Morris, head of energy research at VettaFi, said. "MLPs have less sensitivity to commodity prices given their fee-based business models. MLP distributions can also be particularly attractive in volatile markets."
Prior to mid-March, West Texas Intermediate (WTI) oil prices had been trading in a relatively narrow range, between $75 to $80 per barrel (bbl), since mid-November, according to Morris. After the volatility seen for much of 2022, the price stability for much of the past five months was notable.
Oil prices can be very sensitive to the outlook for the global economy given the implications for demand, according to Morris. As a volatile commodity, panic in financial markets can negatively impact oil. Pressure on oil and other energy commodities and a risk-off environment often translates to weakness for energy stocks.
The generous income offered by midstream investments can help offset some of the volatility. The AMZI, tracked by the (AMLP A-), is yielding 8.08% as of March 30. AMZI is an index of energy infrastructure MLPs.
For more news, information, and analysis, visit the Energy Infrastructure Channel.
vettafi.com is owned by VettaFi LLC ("VettaFi"). VettaFi is the index provider for AMLP, for which it receives an index licensing fee. However, AMLP are not issued, sponsored, endorsed, or sold by VettaFi, and VettaFi has no obligation or liability in connection with the issuance, administration, marketing, or trading of AMLP.