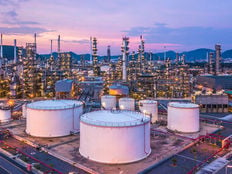 Energy Infrastructure Channel
Demand for petrochemicals increases as quality of life improves, making it an important growth opportunity for hydrocarbons.
Plastics/petrochemical products are one of the four pillars of modern civilization, along with ammonia, cement, and steel. As petrochemicals go into nearly all manufactured products, it makes sense that as a country becomes more affluent, it consumes petrochemicals at a faster rate, lifting demand.
"If you look at forecasts by the IEA, they say that we'll grow, on the petrochemical side, three million barrels of oil or oil equivalents by 2030, and that half of our incremental crude demand between now and 2050 is going to be related to petrochemicals," Tony Chovanec, EVP, fundamentals and commodity risk assessment, Enterprise Product Partners LP (EPD), said during the company's analyst meeting on March 29.
The U.S. has two advantages in petrochemical production over the rest of the world: more efficient feedstock and lower energy costs. While the rest of the world uses a crude-based product to make ethylene, the U.S. predominantly uses the natural gas liquid ethane. Ethane is a less carbon intensive petrochemical feedstock used to produce ethylene.
"If you think about this: One, the world is going to need more petrochemicals because the population is growing and becoming more affluent. And secondly, the U.S. is one of the most cost advantaged places in the world to do it because of feedstock and energy costs. So we should see more petrochemicals in the U.S.," Chris D'Anna, SVP, petrochemicals, said during EPD's analyst day.
EPD's petrochemical business is the largest producer of propylene in the U.S. and will become the largest global producer with the completion of PDH 2, a second propane dehydrogenation plant that is expected to be finished during the second quarter of 2023 as part of the company's long-term agreement with Marubeni Corp. EPD is also the largest producer of isobutylene in the U.S.
EPD's petrochemicals business has four core competencies: upgrading (processing), storing, transporting, and exporting. Its petrochemical business is a stable fee-based model, standard for midstream companies, but also participates in upside when "spreads blow out," W. Randall Fowler, co-CEO and CFO, said.
EPD is a core name in midstream ETFs. EPD is weighted 12.85% in the +Alerian MLP ETF+ (AMLP A-), the largest midstream ETF, and is weighted 8.83% in the (ENFR ) as of April 13.
For more news, information, and analysis, visit the Energy Infrastructure Channel.
vettafi.com owned by VettaFi LLC ("VettaFi"). VettaFi is the index provider for AMLP and ENFR, for which it receives an index licensing fee. However, AMLP and ENFR are not issued, sponsored, endorsed, or sold by VettaFi, and VettaFi has no obligation or liability in connection with the issuance, administration, marketing, or trading of AMLP and ENFR.
---
Content continues below advertisement