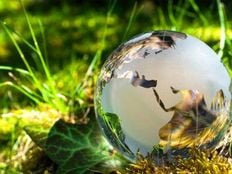 The Responsible Investing Channel
Amid escalating costs associated with combating climate change and achieving net-zero goals, some market observers believe there is potential for credit quality on corporate debt to suffer.
That could highlight exchange traded funds such as the (CVSB ). While CVSB is new to the environmental, social, and governance (ESG) fixed income ETF arena — it debuted last month — it could be a well-timed addition to this fund category, because it minimizes both credit and duration risk.
CVSB could also prove pertinent right out of the gate, because the recently-published United Nations' Intergovernmental Panel on Climate Change (IPCC) indicates "there is "a rapidly closing window of opportunity to secure a liveable and sustainable future for all."
That's an ominous take, but it's not a death knell, because companies and governments can boost climate change preparedness. However, those efforts are costly, indicating issuer credit quality could be strained. As an actively managed fund, CVSB can make credit quality a top priority.
Data confirms the rookie ETF is already doing that. Of the fund's 102 holdings, nearly 63% are rated A, AA or AAA, according to issuer data. That's blue-chip territory and implies the bulk of those issues are not at any near-term danger of credit downgrades.
Additionally, a substantial portion of CVSB's current roster are issued by firms hailing from sectors that are not climate offenders to start with. For investors, that's an important trait because it's often more costly for those firms to adjust to more climate-friendly practices and business models.
"The costs of a rapid acceleration in climate action would be credit negative for carbon-intensive industries and sovereigns because of heightened stranded asset risk (e.g., blast furnaces, cement factories, airplane and shipping fleets), project cancellations, the transition to lower-carbon fuels, and the need for a massive scale-up of investments in new technologies. Our latest environmental risk heat map identifies 16 sectors with $4.9 trillion of debt having high or very high inherent exposure to carbon transition risk. At the same time, issuers in some sectors are positioned to benefit from a rapid transition, such as those with significant investments in solar and wind energy, urban green infrastructure and other energy-efficient, low-carbon technologies," noted Moody's Investors Service.
CVSB could be at the right place at the right time because an increasing number of asset allocators are acknowledging the threats climate change poses to a variety of crucial sectors and industries. As such, there's elevated demand for relevant investment solutions.
"Climate change is threatening food security and agriculture, infrastructure, water supplies, human health and ecosystems. Moreover, the risks, losses and damages related to climate change escalate with every increment of global warming," concluded Moody's.
For more news, information, and analysis, visit the ESG Channel.