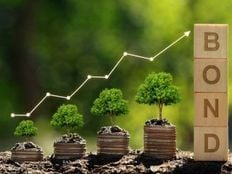 The Responsible Investing Channel
In terms of asset classes, equities dominate the realm of environmental, social, and governance (ESG) exchange traded funds. However, bonds are an increasingly prominent part of the ESG ETF space.
It's a good thing, too. With many global investors, including governments and institutional market participants, prioritizing ESG, non-ESG bonds risk being left to a smaller pool of potential buyers. That could also be a sign that ETFs such as the (CVSB ) are at the right place at the right time.
Take the case of the German state of Baden-Württemberg. The region has $18 billion in investable assets. Due to the lack of ESG credibility associated with U.S. government debt, Baden-Württemberg will no longer invest in those bonds.
"The practical investment implications of the law are limited when it comes to US Treasuries, because the German state's holdings weren't significant to start with. In fact, German holdings of US Treasuries overall account for a tiny fraction of the market, or just $85 billion of the $24 trillion in outstanding debt, according to the latest data. And there's little to indicate that investors' ESG considerations in general have left any kind of dent on the US Treasury market," reported Greg Ritchie for Bloomberg.
CVSB Relevance on the Rise
Indeed, $85 billion in the grand scheme of the mammoth U.S. debt isn't a significant amount. However, many of the outstanding Treasuries are held by foreign governments and institutions. As those entities prioritize ESG and bonds, Treasuries could be vulnerable unless the ESG proposition is enhanced.
For its part, CVSB features modest exposure to Treasuries, but investment-grade credit represents the bulk of its lineup. That trait could be ESG-supportive over time. At the very least, CVSB doesn't subject investors to elevated credit risk. Nearly 65% of its holdings are rated A, AA, or AAA.
Alone, that's attractive, and that impressive credit quality highlights the efficacy of marrying bonds with ESG principles. However, those benefits do not mean that investors sacrifice income when embracing the Calvert ETF.
As of the end of the first quarter, CVSB's 30-day SEC yield was 6.22% — well in excess of the widely followed Bloomberg U.S. Aggregate Bond Index, the Bloomberg 30-Day U.S. Commercial Paper Index, and the Bloomberg 1-3 Year U.S. Government/ Credit Index. That's an attractive yield, particularly when considering that CVSB's duration is just 0.65 years.
For more news, information, and analysis, visit the Responsible Investing Channel.
---
Content continues below advertisement