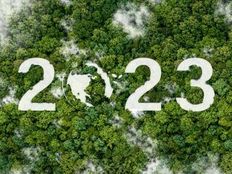 The Responsible Investing Channel
This year was a trying one for environmental, social, and governance (ESG) ETFs. There's the obvious matter of many ESG funds slumping because growth stocks did the same. Then there was the added political debate and intensified regulatory push aimed at ESG.
Those are headwinds to be sure, but they don't diminish the long-term cases for exchange traded funds such as the (EFIV B+), the , and the , among others.
Regarding ESG ETFs, whether it's equity or fixed income funds in question, performance will ebb and flow over time, as is the case with any traditional security. This year's weakness in the group isn't so much a commentary on investor disdain for ESG as it is an indication that plenty of asset classes and investing styles were out of favor this year.
What's clear is that ESG remains a favored formula among many investors — both professional and retail — and that companies are increasingly making it a priority. The latter point will likely continue coming to center stage in 2023, and that could support ESG ETF adoption.
"It's not all doom and gloom, either — ESG is a competitive opportunity for businesses. Being able to demonstrate a mature and differentiated approach puts you ahead of the pack with respect to current requirements. It also positions you to successfully pivot when new regulations are created," reported .
Carpenter highlights supply chain issues, vendor relationships, and sustainability budgets as ESG-related areas in which companies are likely to focus in 2023. In particular, just how much corporations are willing to commit to ESG efforts, particularly if the economy weakens, will be in focus.
"Understanding how much of a budget to set, and how to set it, is crucial. ESG programs are particularly tricky, as they cover a wide array of functions — sustainability, engineering, procurement, legal, IT and quality control, for example. There is also no 'one-size-fits-all' approach. That's why it's important to evaluate whether your budget is sufficient to achieve your sustainability goals," added Carpenter.
In terms of ESG ETF evolution in 2023, fixed income is likely to remain fertile territory, particularly when expanding beyond aggregate bond strategies. That's a bell answered by existing ETFs, including the and the .
For more news, information, and strategy, visit the .