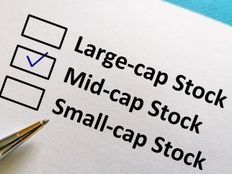 The Responsible Investing Channel
Mid-cap equities are often referred to as the overlooked corner of the stock market – a status that might be growing this year as mega-cap growth stocks fuel broader market performance.
However, savvy investors are apt to recall the enviable history of mid-cap stocks. More market participants might want to consider a similar strategy. Should more investors awaken to the benefits of mid-caps relative to large- and small-caps, exchange traded funds such as the (CVMC ) stand to benefit.
"Mid-caps could be considered the happy medium between the other two categories. They're less speculative than their smaller counterparts and stand on a firmer financial footing, but are, in many cases, still in the growth stage. If your preference is the S&P 500, think of investing in mid-caps as catching these names before they graduate into the index," reported David Dierking for TheStreet.com.
For its part, CVMC is starting to show signs of life, as the Calvert ETF is higher by about 8% over the past 90 days.
Mid-Caps' Impressive Track Record
A passively managed fund, CVMC follows the Calvert US Mid-Cap Core Responsible Index. As a passive fund, CVMC may not frequently capture a significant number of mid-cap names that graduate to large-cap status, but the ETF is more than adequately levered to the other positive attributes of mid-cap equities.
Those include the history of this market segment delivering better risk-adjusted returns than small-caps while frequently outperforming large-cap stocks.
"Over the past 50 years, mid-caps actually outperformed both large-caps and small-caps. The last 10-15 years were likely the tiebreaker in favor of mid-caps. Ever since the financial crisis when the Fed severely loosened monetary conditions, there's been a larger company bias that have pushed small-caps to persistently underperform," added Dierking.
Getting back to risk-adjusted performance, applying the Sharpe and Sortino ratios to some well-known mid-cap indexes indicates that this market segment has a long legacy of being a higher-quality, less-volatile asset class than small-caps.
One factor that could go a long way to driving mid-cap performance over the near- to medium-term would be a resurgence by value stocks. Owing to the point that mid-cap technology and communication services spaces aren't as expansive as the large-cap equivalents, many mid-cap blend ETFs have value tilts.
CVMC fits that bill, as the industrial, financial services, and healthcare sectors combine for more than half the fund's roster.
For more news, information, and analysis, visit the Responsible Investing Channel.
---
Content continues below advertisement