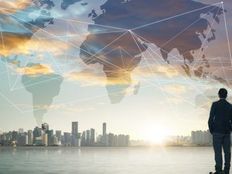 The Responsible Investing Channel
Two of the best-performing major global equity markets this year are India and Japan, confirming that there are indeed compelling opportunities for equity investors outside of the cozy confines of U.S. borders. That's often the case, but for widely followed benchmarks of ex-US stocks, including the MSCI EAFE Index and the MSCI Emerging Markets Index, have spent years lagging the S&P 500, providing advisors and investors with essentially no reasons to look at international equities.
That tide could be turning and the (CVIE ) could be among the exchange traded funds poised to benefit. Yes, there's a case for U.S. stocks to continue outpacing their international counterparts. That being extension of the status quo, including more out-performance by tech-plus stocks – an asset class many ex-US developed market benchmarks are in short supply of.
CVIE Can Break Through Status Quo
Undoubtedly, the length and the results of domestic stocks beating international equivalents are impressive traits, but there is no guarantee that the status quo stays in place. Market leadership, be it sector or regional, usually ebbs and flows over time. Plus, international equities, including some CVIE components, are showing signs of life this year.
We will see just how durable that trend is, but the point is that green-shoots ETFs such as CVIE need to gain investors' attention and assets.
"The case for non-U.S. markets taking the lead is that they appear attractive when factoring in price multiples and currencies. Improving fundamentals and corporate governance could also serve as catalysts," according to Morningstar.
As noted above, history is meaningful when it comes to market leadership, which is to say good things don't last forever. Nor do bad scenarios. In other words, it's not unreasonable to claim international stocks are overdue to beat domestic rivals.
"Market history is defined by cycles, rotations, and changes in leadership. Non-U.S. stocks have outpaced U.S. stocks for extended periods in the past, such as the mid-1980s and from the late 1990s into the mid-2000s. U.S. stocks have led for well over a decade, and could be due for a reversal," adds Morningstar.
In what could be a positive for CVIE going forward, Morningstar points out that active fund managers have long been overweight U.S. equities while being underweight international markets. However, enthusiasm for the former is starting to wane due in part to stretched valuations – a situation that doesn't broadly pertain to CVIE holdings.
For more news, information, and analysis, visit the Responsible Investing Channel.
---
Content continues below advertisement