ETF Building Blocks Channel
Stocks are off to a solid start in 2023, even as the economic outlook remains cloudy.
Three ALPS ETFs stood out for stellar performance last month, as the (ACES A-), the (JRNY B-), and the (OGIG B-) each returned over 13% in January.
In January, ACES, JRNY, and OGIG each outperformed broader markets, as measured by the (SPY A), which climbed 6.29% on a total return basis during the month.
ACES was the top-performing ETF in ALPS' range of funds in January, returning 16.25% during the month. JRNY came in second, increasing 15.67%, and OGIG followed, gaining 13.79% last month.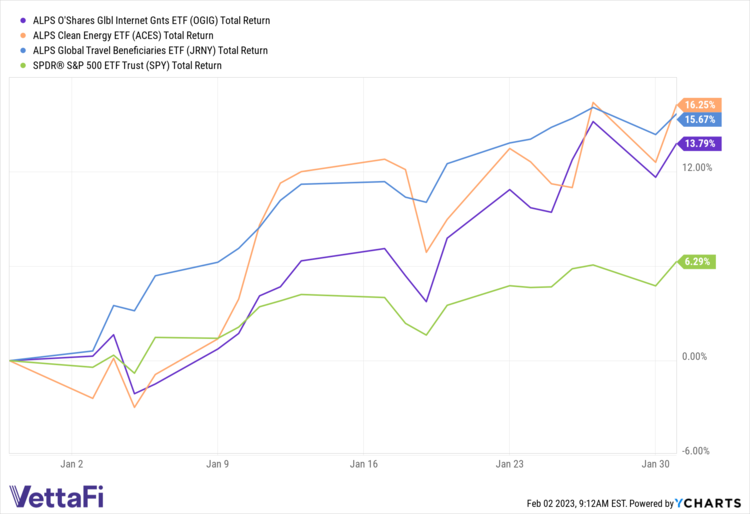 ACES delivers exposure to a diverse set of U.S. and Canadian companies involved in the clean energy sector, including renewables and clean technology. The clean energy sector comprises companies that provide the products and services that enable the evolution of a more sustainable energy sector. ACES consists of 48 holdings as of February 1.
JRNY invests in companies engaged in the global travel industry, including four segments: booking and rental agencies, airlines and airport services, hotels, casinos and cruise lines, and global travel beneficiaries. The fund holds 79 securities as of February 1.
OGIG is designed to offer investors exposure to some of the largest global companies that derive most of their revenue from the internet technology and e-commerce business segments and exhibit above-average growth. The fund comprises 87 holdings as of February 1.
ACES, JRNY, and OGIG charge an expense ratio of 55 basis points, 65 basis points, and 48 basis points, respectively.
For more news, information, and analysis, visit the ETF Building Blocks Channel.
VettaFi LLC ("VettaFi") is the index provider for JRNY, for which it receives an index licensing fee. However, JRNY is not issued, sponsored, endorsed or sold by VettaFi, and VettaFi has no obligation or liability in connection with the issuance, administration, marketing or trading of JRNY.
---
Content continues below advertisement