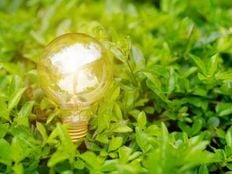 ETF Building Blocks Channel
Many investors know the story about the Inflation Reduction Act (IRA) and its role in clean energy stocks by now. Still, market watchers should be paying more attention to clean energy stocks' numbers. Some of the leaders in the space are hitting strong sales, revenue, and operating margins beyond just the IRA's impact. The likes of (ENPH), (ALB), and (FSLR) have performed well, available in ETFs. The (ACES A-) includes those and other clean energy names.
See more: MLP Fund AMLP Sending Key Buy Signal
Those three clean energy firms have not only seen some of the largest jumps in quarterly sales year over year. They've also improved their gross profit margins and operating margins. As of mid-May, ALB, for example, saw a 129% increase in quarterly sales YoY with a 40% jump in gross margins over the year. ENPH hit 65% and 38.8% in those margins respectively, while FSLR saw 49% and 3%.
ACES includes all of those clean energy stocks and more in its holdings. ACES weights FSLR at 5.5%, its third-highest weight, while ALB sits at 4.5%. ENPH meanwhile resets at 4.3%. The ETF tracks the CIBC Atlas Clean Energy Index and charges a 55 basis point (bps) fee. The ETF tracks its market-cap-weighted index of U.S. and Canada firms, targeting firms across the clean energy infrastructure space. ACES also caps its stocks at 5% weight.
For more: The Investment Case for the Energy Transition Portfolio
The strategy also hit a key buy indicator as of Tuesday this week, with its price rising above its 50-day Simple Moving Average (SMA). The ETF hit $44.18 as of midday Tuesday, above its $43.5 50-day SMA.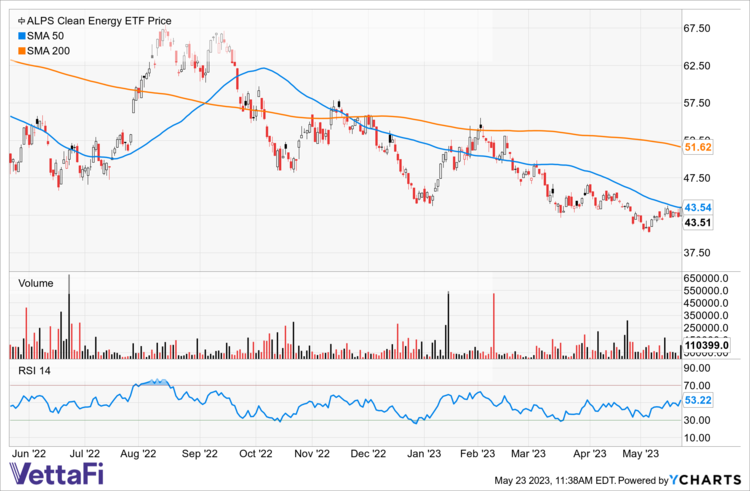 ACES offers one option to play the space for investors, but there are others to consider with exposure to the above stocks. The (LIT B-) weights ALB higher at 8.7%, but charges more at 75 bps. LIT also targets batteries more specifically.
Clean energy stocks stand out as a candidate for durability despite ongoing volatility. Whether it's more rate hikes or debt ceiling issues, ACES offers exposure to a space that's proven to be very durable so far in 2023.
For more news, information, and analysis, visit the ETF Building Blocks Channel.
---
Content continues below advertisement