ETF Building Blocks Channel
U.S.-based retail sales rose for a fourth consecutive month, rising 0.7% on a seasonally-adjusted basis. U.S. consumers continue to show resilience despite stubborn inflation and tightening credit markets. This read may be the last facing the same force of headwinds as the Fed increasingly looks set for a soft landing. Those factors and this most recent data drop may help the case for an ETF like (OGIG B-), the ALPS O'Shares Global Internet Giants ETF.
More than just a fourth consecutive rise, the new retail sales data came in higher than June's data. Americans may still be acting on pent-up demand for travel following COVID-19-related lockdowns. That said, this particular metric mostly captures goods rather than services alone, though gas spending growth may also owe to travel. Still, online goods purchases thanks to promotions like Amazon's (AMZN) Prime Day also likely contributed.
See more: 3 Firms to Know in Equal Weight ETF BFOR
That U.S.-based retail sales drop comes as China, meanwhile, cut rates to try to boost its economy. The Chinese government appears set on trying to draw out Chinese consumer savings, which could boost the case for online platforms in China, too. Taken together, those retail sales data points may contribute to the case for a global, online purchases ETF like OGIG.
OGIG holds both U.S. and China-focused online sales firms. The strategy tracks the O'Shares Global Internet Giants Index, charging a 48 basis point (bps) fee. OGIG looks for firms with both growth and quality characteristics. Its managers define quality based on the monthly cash burn rate, with growth defined by revenue growth rate. Firms included in the index must derive at least half of their revenues from either internet technology or internet commerce.
OGIG has done well thanks to that approach, returning more than 31% YTD. The ETF has also outperformed the MSCI World Net Total Return Index, 13.4% to 6.4%, over three months. For those investors looking at possible equities ETFs moving forward, OGIG might merit a closer look.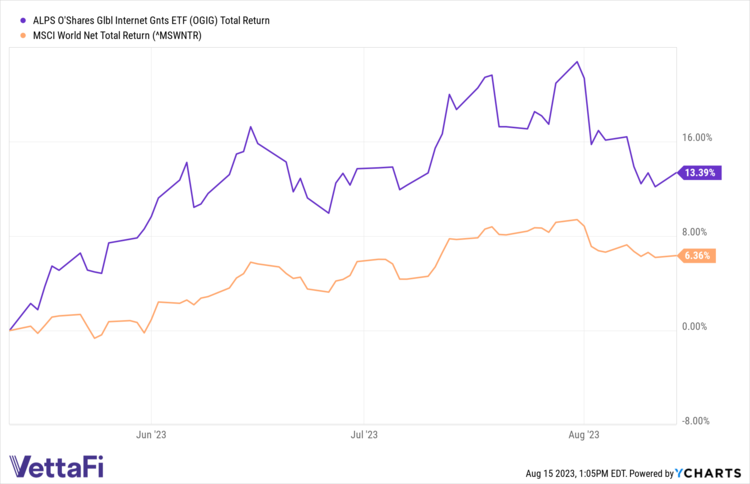 ---
Content continues below advertisement