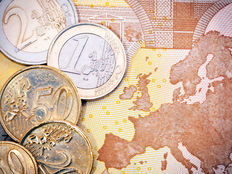 ETF Building Blocks Channel
Even as global stocks slouched on Thursday, European equities are still outperforming U.S. stocks year-to-date.
European stocks closed slightly lower on Thursday on investor concerns regarding higher for longer interest rates. Meanwhile, U.S. stocks were up in morning trading but reversed course midday, with the S&P 500, Nasdaq, and Russell 2000 each down over 1% in midday trading.
Investors looking to enhance their portfolios by adding exposure to European equities may consider the ALPS O'Shares Europe Quality Dividend ETF (OEUR A-), which is outperforming broad U.S. indexes year-to-date.
"Advisors have turned to European equities as an alternative to a home bias. High-quality European companies like those found in OEUR are more likely to hold up during market volatility," Todd Rosenbluth, head of research at VettaFi, said.
OEUR is up 7.1% year-to-date through March 8, while the S&P 500 has increased 4.3% during the same period. Over a one-year period, OEUR has gained 8.4% compared to the S&P 500's 2.7% drop, each on a total return basis.
OEUR is designed to offer investors efficient and transparent access to a portfolio of large-cap and mid-cap dividend-paying companies in Europe selected based on several fundamental metrics such as quality, low volatility, and dividend growth, according to SS&C ALPS Advisors.
OEUR has a focus on dividend quality to help avoid dividend cuts and suspensions and aims to provide strong performance with less risk, according to SS&C ALPS Advisors.
As of March 8, the fund offers the greatest exposure to companies domiciled in Switzerland (20.09%), France (19.49%), Germany (13.7%), the United Kingdom (13.51%), the Netherlands (10.91%), Sweden (7.35%), and Denmark (7.17%), according to ETF Database.
Launched in 2015, OEUR charged 48 basis points and has $39 million in assets under management.
Other ETFs that offer exposure to European stocks include the iShares Europe ETF (IEV A-), the Franklin FTSE Europe ETF (FLEE A-), and the SPDR Portfolio Europe ETF (SPEU A).
For more news, information, and analysis, visit the ETF Building Blocks Channel.