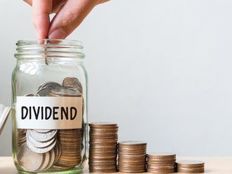 ETF Building Blocks Channel
When it comes to dividend investing, the names of the game are consistency, dependability and reliability. No, investors need not sacrifice yield to reach those attributes.
Take the case of the (SDOG A-). Home to a recently reduced expense ratio, SDOG is positioned as a high dividend strategy and a dividend yield of 3.86% confirms as much. That's the good news. The better news is that SDOG offers income a stout payout yield by way of companies, some with quality traits, with dependable payout growth.
Dow component (VZ) is part of that group. The telecom giant may be contending with near-term challenges, causing investors to overlook a compelling fundamental picture.
"We think the market is overly focused on Verizon's challenges to add postpaid consumer wireless customers, says Morningstar director Mike Hodel. Hodel expects margins and cash flow to move higher as network projects are completed and the promotional environment eases," noted Morningstar's Susan Dziubinski. "This dividend stock offers the highest forward yield on our list; Hodel observes that 50% to 60% of Verizon's free cash flow is committed to the dividend."
(GILD), one of the few biotechnology firms with a lengthy history of dividend increases, is another SDOG component in the reliable payout conversation. Equally as important, it's a quality stock offering value.
"Gilead stock is undervalued, with shares trading about 14% below our fair value estimate of $97 per share. The company generates outstanding profit margins with its HIV and HCV portfolio, and its portfolio and pipeline support a wide economic moat rating," added Dziubinski.
SDOG, which follows the S-Network Sector Dividend Dogs Index (SDOGX), equally weights its sector exposures so its roughly 10% weight to healthcare names is below what's found in the S&P 500. However, in addition to Gilead, some other SDOG healthcare holdings have impressive dividend and value traits. That includes medical device manufacturer (MDT), which has a stellar dividend increase streak of 45 years.
"Medtronic stock trades 28% below our $112 fair value. The largest pure-play medical device maker is a key partner for its hospital customers, thanks to its diversified product portfolio aimed at a wide range of chronic diseases, explains Morningstar senior analyst Debbie Wang according to Dziubinski.
Other SDOG components on Morningstar's list of the 10 best dividend stocks include (DUK), (DOW) and (TFC).
For more news, information, and analysis, visit the ETF Building Blocks Channel.