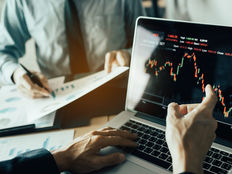 ETF Building Blocks Channel
One of the big stories so far this year for the markets has been the somewhat striking performance of the S&P 500. Pulled forward by some of the biggest tech names, the lead index, and its attached ETF, the SPDR S&P 500 Trust ETF (SPY A) has proved to be a durable performer despite a series of volatility events tied to banks, rate hikes, and more. That said, it may be worth looking to an equal-weight ETF that has been outperforming SPY over the last month for a potentially better-diversified alternative.
That alternative, the Alps Equal Sector Weight ETF (EQL B), has indeed outperformed SPY over the last month according to YCharts, seen below, returning 3.8% to SPY's 2.6% in that time. Past performance does not necessarily imply future return, however, so it may be a good opportunity to go deeper on EQL, how it works, and why it's something to consider in what could be a bumpy rest of the year.
See more: This Equal-Weight ETF Is Signaling a Buy
Broadly speaking, EQL uses an equal weight scheme as its primary investing strategy, which at a high level entails allocating an equal weight to either each holding or the overall sectors held in an ETF. In this case, EQL weights each economic sector equally, which aims to provide balanced exposure that avoids the big, volatile swings that could be in the cards this year.
While that does limit some of its upsides compared to SPY if tech is going to keep swinging, its diversification into areas SPY might miss, and its exposure to traditionally more defensive sectors, too, makes it an intriguing play. EQL invests as an ETF of ETFs, using other funds in the SPDR suite to just about equally spread between strategies from the Industrial Select Sector SPDR Fund (XLI A) to the Financial Select Sector SPDR Fund (XLF A).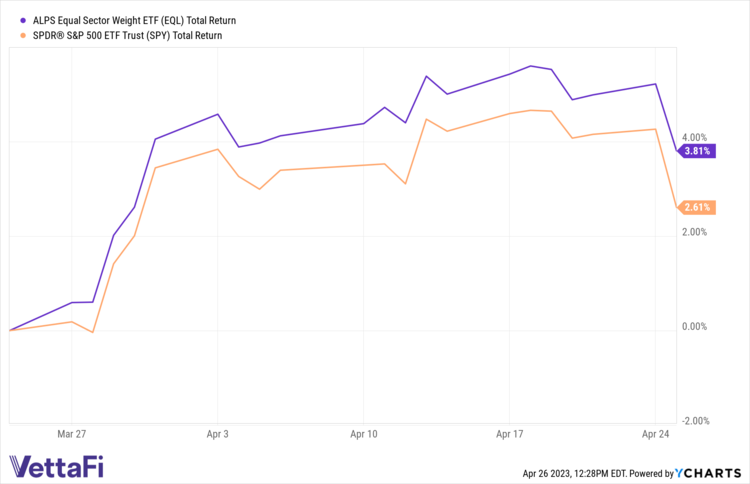 EQL has seen its AUM grow by about $9.6 million over the last three months, meanwhile, from a mix of both fund inflows and price action, according to VettaFi. In a notable and somewhat unexpected addition, it has also seen an annual dividend yield of 2.2%, better than both its ETF Database Category Average and its FactSet Segment Average.
Charging 26 basis points, EQL could be a strategy worth considering should the tech rally that defined much of Q1, despite the Fed's rate hikes, lose what steam it has left. In that case, an equal-weight strategy like EQL could be primed to benefit from the market cycling into other areas.
For more news, information, and analysis, visit the ETF Building Blocks Channel.
---
Content continues below advertisement