ETF Building Blocks Channel
So far, dividends and current income have been a very popular theme in 2023. Income offers an added cushion for investors facing some chop, whether from the banking crisis or from the ins and outs of Fed watching. That may build the case to watch the performance of a dividend value ETF, with the (SDOG A-) sending up a key buy signal Monday.
Value strategies have been making their comeback this year, and SDOG is no exception, with the added boost of dividends and current income. SDOG invests with an approach that is broadly similar to the "Dogs of the Dow" strategy that picks the ten Dow Jones components with the strongest dividend yields.
See more: ALPS Cuts Fees on Dividend Value ETF 'SDOG'
By adding a value lens, the dividend value ETF has outperformed its peers YTD according to YCharts, including the likes of the (SPHD C+) and the (DVY A), tracking the S-Network Sector Dividend Dogs Index and charging 36 basis points. It's also delivered on its dividend focus with a 3.9% annual dividend yield and an annual dividend rate of $2 that is outdoing its ETF Database Category Average and its Factset Segment Average.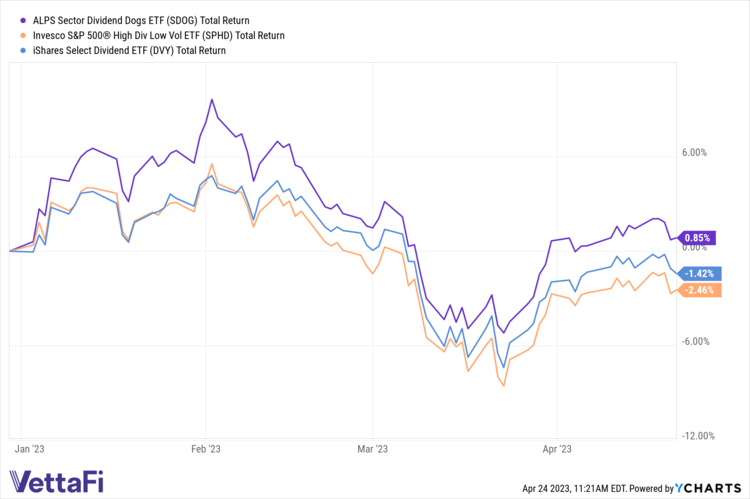 Amid that performance the ETF is sending a technical buy signal Monday, having risen above its 200-day Simple Moving Average (SMA) in the morning and sitting at and around both the 200 and 50-day SMAs by midday. Given the price's proximity to both measures, at $51.30 and $51.48 respectively, there is the potential for the price to rise above both and send a further signal that the ETF is seeing some potent momentum.
Investors have a whole slew of yield and income options out there this year with fixed income, for example, back in the cards — but SDOG not only offers an alternative source of income, it also provides a value exposure to equities that could be a strong addition to investor portfolios. For those looking for a value dividend ETF as recession looms, SDOG may be one to watch.
For more news, information, and analysis, visit the ETF Building Blocks Channel.
vettafi.com owned by VettaFi LLC ("VettaFi"). VettaFi is the index provider for SDOG, for which it receives an index licensing fee. However, SDOG is not issued, sponsored, endorsed, or sold by VettaFi, and VettaFi has no obligation or liability in connection with the issuance, administration, marketing, or trading of SDOG.
---
Content continues below advertisement