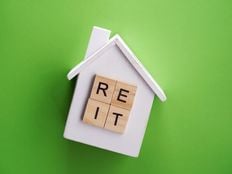 ETF Building Blocks Channel
Are REIT strategies hot again? According to VettaFi data, REIT-focused ETFs are picking up some renewed interest even after a tough few months. There are still some challenges – downtowns and commercial real estate in American cities are still under remote work pressure. But there are signs of positivity in residential REITs. On the other side of the REIT spectrum, the duo of the ALPS Active REIT ETF (REIT C+) and the ALPS REIT Dividend Dogs ETF (RDOG A-) each offer a different spin on investing in the space.
In commercial real estate, expect some continued choppiness, but that quality can prevail. Although we may be on the precipice of a tougher lending environment, high-quality borrowers may still be active, with exposure available in various REIT strategies. Meanwhile, the apartment market has recovered as demand has rebounded after a few quarters of losses. REITs had been a potent tool towards the end of 2022 and could be nearing a point where they can be an attractive area, again.
See more: Play REIT Rebound With Active, Passive Real Estate ETFs
If so, it could be time to look at REIT ETF options like REIT and RDOG. REIT is an actively managed strategy that takes a non-transparent approach, charging 68 basis points to invest in U.S. REITs as well as some broader real estate firms. REIT's managers, the team at ALPS SS&C, considers factors like the intrinsic value of underlying properties in REITs as well as the value of the REITs themselves.
REIT has also added $1.1 million over the last three months due to both fund flows and price influence and has reached a decent $18.7 million AUM in just over two years of operation. According to its last holdings update, its top weights were toward industrial real estate REIT Prologis (PLD) and mall mavens Simon Property Group, Inc. (SPG).
RDOG takes a different tack, charging a much smaller fee of 35 basis points and having operated for a longer period for a dividend-focused REIT investment approach. RDOG tracks the S-Network REIT Dividend Dogs Index, applying the so-called "Dogs of the Dow" theory seeking to identify the five highest-yielding REITs within nine equally-weighted REIT sections.
RDOG is different from other REIT ETFs, however, in that it avoids mortgage REITs due to their vulnerability to rates and spreads while adding growth-focused tech REITs. RDOG currently offers a potent annual dividend yield according to VettaFi, with a yield of 6.1% compared to around 4% for its ETF Database Category and FactSet Segment averages.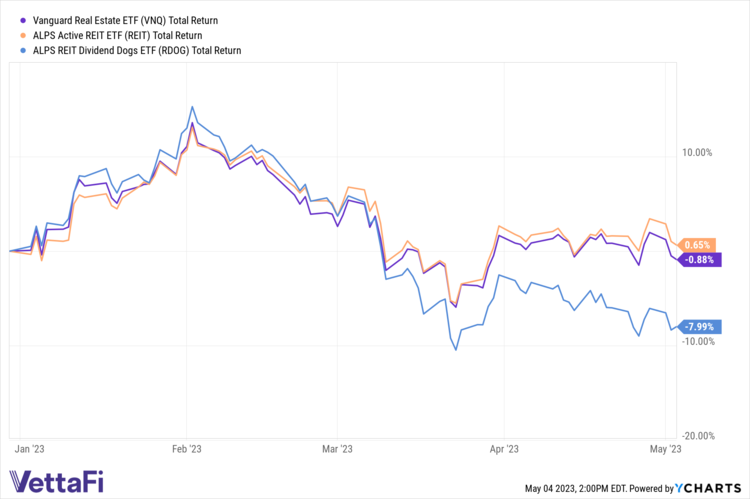 RDOG hasn't kept up with REIT in returns on a YTD basis, but neither has the Vanguard Real Estate ETF (VNQ A). REIT has managed a positive return amid a tough start to the year in real estate and could be one to watch among other REIT strategies.
For more news, information, and analysis, visit the ETF Building Blocks Channel.
vettafi.com owned by VettaFi LLC ("VettaFi"). VettaFi is the index provider for RDOG, for which it receives an index licensing fee. However, RDOG is not issued, sponsored, endorsed, or sold by VettaFi, and VettaFi has no obligation or liability in connection with the issuance, administration, marketing, or trading of RDOG.
---
Content continues below advertisement