ETF Building Blocks Channel
Fund managers are finding opportunities in European stocks, particularly after sloughing off the effects of the Credit Suisse bank rescue. In times of persistent inflation, European equities can also provide a source of alternative income via dividends.
Another reason for European equities exposure is their outright performance. As of late, they've been doing quite well, even against U.S. equities.
"US fund managers are increasing investments in international stock markets after rising interest rates and fears of an economic slowdown brought an end to more than a decade of domestic dominance," a Financial Times article noted.
The FT article noted that the trend of U.S. stocks outperforming most developed and emerging markets began to shift last year. As the article noted, the "Europe-wide Stoxx 600 index has now posted stronger returns than Wall Street's S&P 500 for four consecutive quarters, its longest period of outperformance since 2008."
Additionally, the MSCI Europe has been outperforming the S&P 500 so far this year. The European index is up almost 14% versus the S&P's almost 8% gain for the year.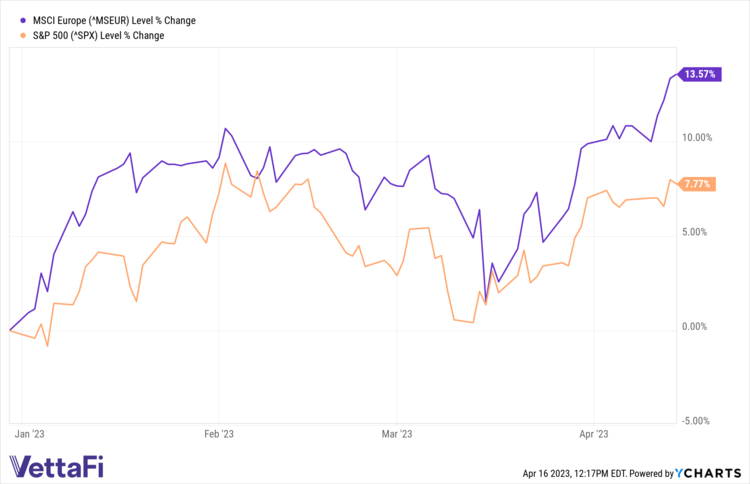 Dividend Exposure to Quality Holdings in Europe
Savvy fixed income investors are well aware that quality yield, as opposed to simply getting the highest-yielding assets, is paramount. With a 5.81% yield (as of April 14), an exchange traded fund (ETF) worth considering is the (OEUR A-).
OEUR is designed to offer investors efficient and transparent access to a portfolio of large-cap and mid-cap dividend-paying companies in Europe, which are selected based on several fundamental metrics such as quality, low volatility, and dividend growth, according to SS&C ALPS Advisors. Given this varied exposure in large- and mid-caps, OEUR adds a high level of diversification baked into the fund when looking for dividend-yielding opportunities.
Speaking of that diversification, the fund spreads holdings across a variety of countries, including Switzerland, France, and Germany. Those three countries comprise over 50% of the fund with country exposure also extending to Great Britain, Netherlands, and Denmark to name a few others.
The diversification doesn't stop at country exposure. The fund also spreads across a variety of sectors, including industrials, healthcare, and information technology.
For more news, information, and analysis, visit the ETF Building Blocks Channel.
---
Content continues below advertisement