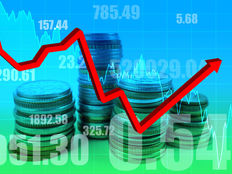 ETF Building Blocks Channel
The recent resurgence in energy equities isn't confined to integrated oil names and exploration and production stocks. Energy infrastructure stocks are joining the party as highlighted by a gain of almost 16% over the past month for the Alerian Energy Infrastructure ETF (ENFR ).
ENFR is up nearly two fold from its March nadir. ENFR tracks the Alerian Midstream Energy Select Index (CME: AMEI). ENFR acts as a type of hybrid energy infrastructure ETF, which could help investors capture some of the high yields from MLPs but limits the tax hit from solely owning MLPs. Importantly, many midstream MLPs and energy infrastructure companies are working to deleverage their balance sheets.
One element that separates ENFR from traditional energy ETFs is its focus on midstream companies. That's notable in the current environment because those firms are being prudent with capex budgets in a bid to conserve cash.
Master limited partnerships and midstream companies have been reducing leverage as of late, but what are the benefits of this move? Reduced leverage increases financial flexibility and can pave the way for midstream operators to boost shareholder rewards in more favorable market climates.
"On average, capex has been reduced nearly 30 percent against initial guidance, and more than 45 percent versus 2019," according to OilPrice. "There are other reasons a midstream might make deep cuts to capital spending. They may just decide to be extra conservative given the uncertainty hanging over the oil and gas sector."
ENFR Perks
Midstream companies are involved in the gathering, processing, storage, and transportation of oil and gas. Additionally, the midstream space is usually more defensive and less volatile than other energy segments due to steady, reliable cash flows.
Even in a rough first quarter for energy commodities, there were some bright spots for some ENFR components, which could be a sign the fund is positioned to capitalize on a crude rebound.
"Most of the top midstream companies saw single-digit percentage decrease in both adjusted EBITDA and distributable cash flow for the first quarter of 2020, an S&P Global Market Intelligence analysis showed," reports Platts. "Analysts and investors, however, were more focused on guidance for the second quarter and beyond when the effect of low oil prices will really show up."
About two-thirds of ENFR's holdings are natural gas or oil pipeline operators. The ETF currently sports a tempting 30-day SEC yield of 8.19%.
For more market trends, visit our ETF Building Blocks Channel.
---
Content continues below advertisement