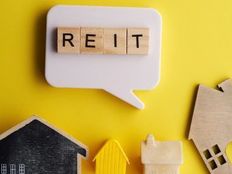 ETF Building Blocks Channel
Dividends are one of the primary reasons that investors embrace real estate investment trusts (REITs) and the related exchange traded funds. Consider the following: The dividend yield on the widely observed Dow Jones U.S. Real Estate Capped Index is 2.65%, or 112 basis points in excess of the same metric on the S&P 500.
Above-average yields are nice, and among REIT ETFs, the (RDOG A-) certainly delivers on that front, but growing payouts are also essential to better long-term outcomes for income investors. Fortunately for those considering RDOG, real estate dividend trends, though not perfect, are broadly encouraging.
On an aggregate basis, 60% of U.S. and Canadian REITs boosted payouts last year, but the percentage is higher for domestic names, which is good news for RDOG investors because the U.S. is the ETF's geographic point of emphasis.
"Ninety-nine U.S.-based publicly traded real estate investment trusts announced increases to their regular dividend payments in 2022, about 61.5% of the entire U.S. REIT industry, according to data compiled by S&P Global Market Intelligence," said S&P Global.
Enhancing the allure of RDOG as a play on rising REIT dividends is the ETF's diversification. It provides exposure to nine real estate sub-groups, which is relevant because data indicate that payout increases in 2022 were spread across the sector.
"In 2022, the self-storage segment reported the highest percentage of dividend hikes relative to the sector's total, with five out of six self-storage REITs, or 83.3%, announcing dividend increases during the year. The industrial sector came in second, with nine dividend hikes during the year, or roughly 81.8% of the sector's total," added S&P Global.
RDOG has some self-storage exposure. Likewise, it allocates about 22% of its weight to industrial and retail REITs, the latter of which was also an admirable payout-raiser last year. Specialty and residential REITs, which combine for almost a quarter of the RDOG portfolio, were among the other real estate sub-groups that saw a spate of dividend hikes in 2022.
Additionally, there's room for more growth because some RDOG components have strong balance sheets, while other real estate equities still aren't paying dividends that match pre-pandemic highs.
"Sixty-eight out of 99 U.S. REITs that announced dividend hikes in 2022 posted higher regular dividend payouts by year-end compared to their respective dividends in 2019. On the other hand, 27 REITs were still paying lower dividends relative to their 2019-end dividend payments, including four hotel REITs that only reinstated their dividends in 2022 after suspending payouts in 2020 and 2021," concluded S&P.
For more news, information, and analysis, visit the ETF Building Blocks Channel.