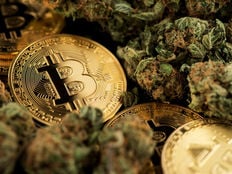 ETF Building Blocks Channel
Another week has passed, but crypto funds remain a leading source of return in ETFs right now. According to the latest data from Logicly, both crypto and cannabis-focused ETFs have led the way over the last week. Crypto overall has thawed from its "crypto winter" over the last few months. At the same time, cannabis could be opening a new investing front.

One factor that could be boosting cannabis investing is the return of the SAFE Banking Act. The Senate has now scheduled the bill for its first hearing. If passed, the SAFE Banking Act could boost cannabis companies. Right now, firms face regulatory hurdles but could see significant growth with that red tape removed.
That might explain why the top-performing ETF over the last week was the AdvisorShares Poseidon Dynamic Cannabis ETF (PSDN ), which returned 11.7% over the last week per Logicly. PSDN charges 101 basis points for its active approach, but interestingly also adds biotech exposure as well to its cannabis focus.
Crypto Funds Prove Resilient
PSDN leads the four total cannabis ETFs in the list, including two other AdvisorShares ETFs. The Amplify Seymour Cannabis ETF (CNBS ) also made an appearance returning 8%, but it's crypto funds that dominated.
Both single-currency crypto ETFs and broader digital asset ecosystem ETFs did well. The Valkyrie Bitcoin Miners ETF (WGMI C) once again saw a top performance, returning 10.8% over the week, while more blockchain-oriented ETFs like the VanEck Digital Transformation ETF (DAPP B-) did well too, returning 9.5%.
Some crypto ETFs add a specialized investment approach, too, which may have helped deliver some high-level returns. The Invesco Alerian Galaxy Crypto Economy ETF (SATO ) charges 61 basis points to track the Alerian Galaxy Global Cryptocurrency-Focused Blockchain Equity, Trusts and ETPs Index that includes an equal weight approach.
See more: Top Weekly ETFs: Crypto Leads Once Again
Crypto may be benefitting from ongoing market uncertainty surrounding the U.S. dollar, the Fed, and even, perhaps, the debt ceiling. Whether it will prove its power as a set of currencies resistant to volatility is a question that many will be watching.
For more news, information, and analysis, visit the ETF Building Blocks Channel.
vettafi.com is owned by VettaFi LLC ("VettaFi"). VettaFi is the index provider for SATO, for which it receives an index licensing fee. However, SATO is not issued, sponsored, endorsed, or sold by VettaFi, and VettaFi has no obligation or liability in connection with the issuance, administration, marketing, or trading of SATO.
Visualizations and data provided by LOGICLY, which is a wholly owned subsidiary of VettaFi.
---
Content continues below advertisement