ETF Building Blocks Channel
Who's afraid of tech stocks? In a year in which markets expected that tech would take a bigger hit, mega-caps have performed. They've helped push the whole sector forward, but of course, tech contains multitudes, and finding the right exposure is key. Investors may want to consider how a top-performing internet ETF can help get the best out of tech this year.
Tech is up more than 18% this year thanks to the big names in its domain, the FAANGs. The (GOOGL) and the (MSFT) of the world are lifting up all the smaller names. Those smaller-cap tech names, the disruptive innovators, are having a harder time with dropping liquidity and higher interest rates.
Compare, for example, the (PSCT B+) and the (SPY A). PSCT's focus on small-cap tech has seen it trail SPY over the last three months.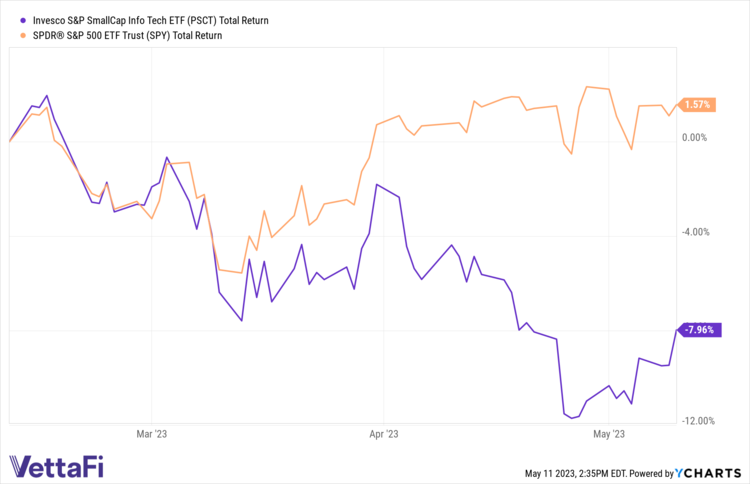 Size matters in this case, but it's not the only factor making an impact. The Fed signaled recently that interest rate hikes are likely to stop for the year. That means more predictability for the tech space. It may also privilege a top-performing internet ETF like the (OGIG B-).
OGIG sits at third among internet ETFs based on one-week returns, according to VettaFi, in part thanks to its screens. OGIG looks at factors like monthly cash burn and revenue growth rate among the largest U.S. and foreign firms. Combining more durable, liquid tech firms and its screens has helped OGIG be a top-performing internet ETF over the last week.
---
Content continues below advertisement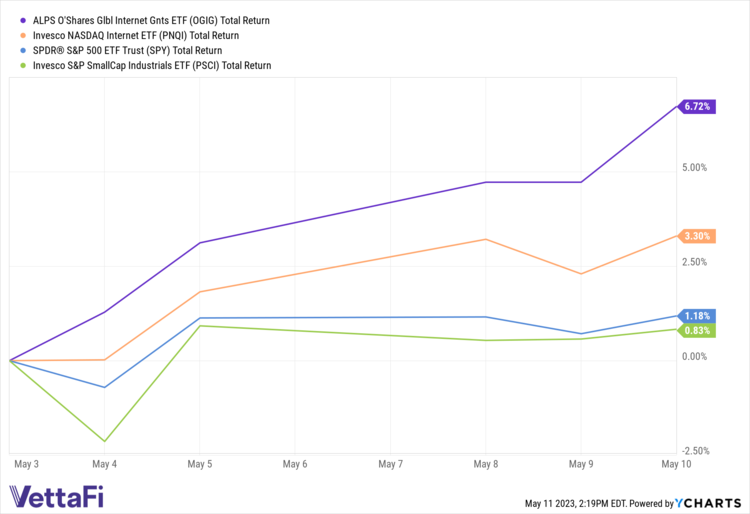 Notably, OGIG has also recently hit a key technical indicator. OGIG's $28.25 price has risen above both its 50-day and 200-day simple moving averages (SMA). That's coincided with an increase in its relative strength index suggesting potent momentum.
See more: NYSE's ETF Leaders: SS&C ALPS Advisors' Andy Hicks
OGIG charges a 48 basis point fee to track the O'Shares Global Internet Giants Index. Sitting at $133 million in AUM, it includes names ranging from (SHOP) to Chinese games firm (TCEHY). For those looking to tech as a buy-low opportunity with solid returns, OGIG's large quality growth focus can appeal.
For more news, information, and analysis, visit the ETF Building Blocks Channel.