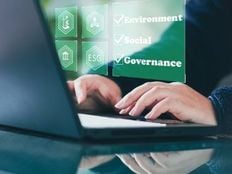 Environmental, social, and governance (ESG) exchange traded funds took some lumps last year due to weakness in growth stocks, but advisors and investors remained fond of these products, supporting the case for long-term growth.
While it remains to be seen what 2023 ESG ETF performance will look like, there are some certainties pertaining to funds such as the and the )+.
For example, advisors and investors can expect more emphasis on ESG purity and regulations this year as well as more corporate-level adoption of ESG standards. Those factors could work in favor of funds such as QQMG and QQJG this year. A recent report by the indicates equity and ESG will be in focus again in 2023.
"From local small businesses to the Fortune 500, organizations are embracing the powerful role place can play in leveling the playing field and ensuring everyone feels welcome, seen, and heard. As these commitments come into sharper focus in 2023, organizations will seek a more integrated approach to diversity, equity, and inclusion (DEI), moving toward a more embedded, equity-in-all-policies approach that spans the entire organization and more definitively affects how the company operates," noted IWBI CEO and President Rachel Hogdon.
In what could be a boon for QQMG and QQJG, both of which apply straightforward approaches to ESG, corporate responsibility and adhering to new ESG regulations are expected to be marquee issues in 2023.
"Organizational improvement across environmental, social, and governance (ESG) initiatives continues to be a driving force for enterprises worldwide. While these non-financial factors have recently been conflated with corporate responsibility, ESG is rooted in better understanding and predicting corporate risk and return. Investors and regulatory bodies alike, including the U.S. Securities and Exchange Commission (SEC), have signaled that ESG is becoming more important than ever because it's anchored by information that could materially impact an organization's bottom line," noted IWBI.
As noted above, equity is also seen as a pivotal corporate issue in 2023. Fortunately for investors, some QQMG and QQJG member firms are already prioritizing equity, indicating that those companies could be ahead of rivals in terms of attracting and retaining top talent.
"Increasingly, equity has become a calling card for a fast-growing group of leading companies that are attuned to what the evidence is showing – that employees in diverse and inclusive workplaces are more likely to , , , and ultimately concluded IWBI.