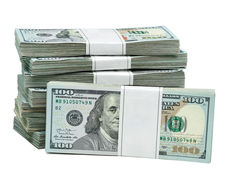 It's often said that cash is king. Investors can apply that notion in the world of equities by searching for companies with track records of generating ample amounts of free cash.
For those that don't want to do that legwork, some exchange traded funds are homes to solid numbers of companies with robust cash flow credentials. That group includes the Invesco QQQ Trust (QQQ B+) and the Invesco NASDAQ 100 ETF (QQQM B).
Those ETFs famously allocate nearly half their rosters to tech stocks and another 17.51% to communication services names. In the large/mega-cap space addressed by QQQ and QQQM, plenty of equities hailing from those sectors sport impressive cash flow credentials. For investors, there's value in embracing baskets of companies that prioritize cash flow.
"With a cash flow statement, investors will learn how much cash a company is producing from operations and how much is left over after it accounts for day-to-day expenses such as payrolls, inventories, rents, and taxes — a measure known as free cash flow," noted Morningstar's Sandy Ward. "That gives a more honest appraisal of how well a company is managing its operations. And how equipped it is to handle debt payments, reinvest in its businesses, expand opportunistically, and return capital to shareholders in the form of dividends and share buybacks."
QQQ, QQQM Cash Flow Dynamos
Among the QQQ and QQQM member firms that impress on the cash flow front is semiconductor giant Broadcom (AVGO). That stock accounts for 2.11% of the ETFs' portfolios. Morningstar has a fair estimate of $640 on Broadcom, but the research firm notes that could jump to $680 should the company complete its acquisition of VMWare.
Another member of the QQQ and QQQM rosters with stout cash flow-generating ability is biotech behemoth Gilead Sciences (GILD). Gilead is the third-largest healthcare holding in the two Invesco ETFs.
"Most of Gilead's debt (to fund share repurchases in 2014-16 and large acquisitions such as Pharmasset in 2011 and Kite in 2017) is due beyond 2025, making the repayment schedule look manageable, particularly with annual cash flow from operations north of $9 billion," notes Morningstar healthcare analyst Karen Andersen.
Railroad operator CSX (CSX), which is the third-largest industrial holding in QQQ and QQQM, has an impressive cash flow story of its own. Along with Broadcom and Gilead, CSX appears on Morningstar's list of seven stocks with market caps of at least $50 billion that have the best cash flow prospects.
For more news, information, and analysis, visit the ETF Education Channel.
---
Content continues below advertisement