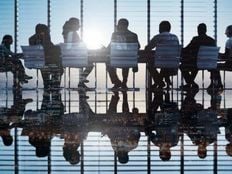 As more companies prioritize environmental, social, and governance (ESG) efforts, boards of directors are playing increasingly crucial roles in those plans.
Thanks to select exchange traded funds, there are avenues with which investors can tap into that theme. Consider the (QQMG B) and the (QQJG C+). Those ETFs are relevant at a time when there's increasing scrutiny on companies' ESG claims.
When ESG first became a corporate and investing buzz phrase, companies had latitude — arguably too much — to boast about ESG plans in public documents. However, that talk wasn't always supported by tangible results. Now, the regulatory environment is shifting to eliminate greenwashing, meaning boards play important roles in helping companies set and observe ESG policies.
"As investors became more interested in ESG factors over the past decade, more companies began to include ESG metrics in official filings, but increasing disclosures did not always align with formal board oversight. But investors' ESG expectations are ratcheting up, a trend that could have a direct impact on the materiality of ESG issues," according to Nasdaq research.
QQMG follows the Nasdaq-100 ESG Index, which is the ESG counterpart to the widely observed Nasdaq-100 Index (NDX). QQJG tracks the Nasdaq Next Generation 100 ESG Index. That index is the ESG equivalent of a benchmark which serves as a training ground, of sorts, for future admission into NDX.
Those indexes put QQMG and QQJG front and center, in terms of leverage, to the growing importance of boards' roles in companies' ESG plans.
"After the structural risks and opportunities have been addressed, the board will need to determine how to monitor and measure ESG performance. There is no one-size-fits-all solution, and practices vary widely. But some industries have adopted common practices based on leading companies that can be used as benchmarks. In addition, certain reporting frameworks, such as the Sustainability Accounting Standards Board and Global Reporting Initiative, provide industry-specific standards and guidelines," added Nasdaq.
There are many areas in which directors can help companies get on the right ESG paths. That's a noble endeavor, and one that can bear fruit for stakeholders, including equity investors, because data and studies confirm that companies with legitimate ESG credentials often subject investors to less risk and, potentially, better long-term returns.
For more news, information, and analysis, visit the ETF Education Channel.