As we approach the final months of 2023, consumer strength has been somewhat mixed but has overall been running out of steam due to stubbornly high grocery prices and higher housing costs. Interestingly, consumers continue to spend on experiences like concerts, movies, and restaurants. But to do this, they are cutting back on prices by discount shopping.
This note examines one way consumers discount-shop — online shopping — which I expect to continue to take market share through the end of 2023 as the holiday shopping season approaches. Another method of discount shopping — discount retailers/groceries — will be discussed in part two next week as retailers report earnings throughout this week.
E-commerce: The Next Generation of Retail
A big question is, if overall retail sales are down, won't that be bad for consumer retail-oriented investments including ETFs? The answer is yes, probably. And e-commerce ETFs, while slightly broader than retail ETFs, would likely follow similar performance trends on an absolute basis.
But in the long- erm, I believe e-commerce is a further evolution of retail and should be able to withstand market downturns as it takes share from traditional retail. Although e-commerce has been gaining share for several years (far before the pandemic occurred and independent of the current market environment due to increasing access to technology and a higher proportion of remote work), I believe the market share will continue to grow as consumers look for ways to save money.
---
Content continues below advertisement
Proprietary Estimates Show Strong E-Commerce Market Share in Future Quarters
3Q23 quarterly retail e-commerce report will be released on November 17, but signs point to growth. My estimates based on retail sales data and proprietary adjustments places 3Q e-commerce sales at a 9.0% y/y growth on an adjusted basis. This translates to a 15.8% market share of total retail sales compared to 14.8% in 3Q22.
I also believe this increase in growth will be driven by discretionary items like clothing and general merchandise, along with nonstore retailers, rather than segments like food, healthcare, and home improvement. Demand for discretionary items has generally weakened. But consumers looking to save money may turn to shopping online, where it is easier to compare prices and find discounts.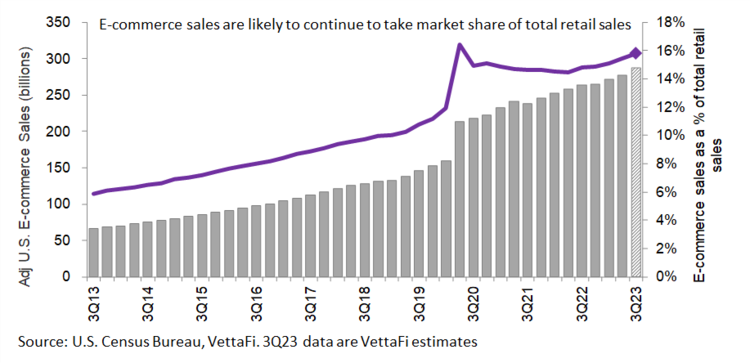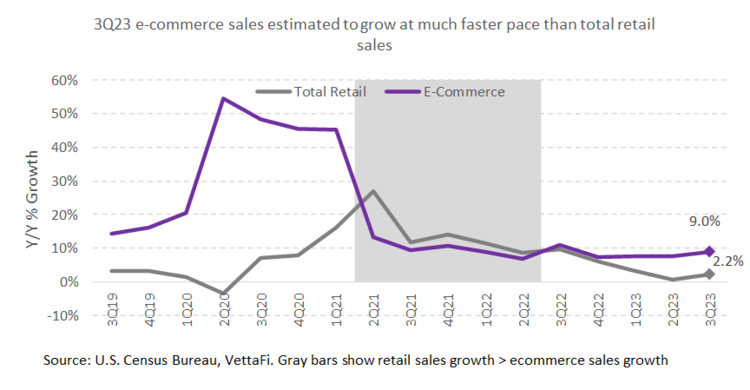 What Companies Can Benefit?
The greatest beneficiaries to the e-commerce trends are e-commerce giants like (AMZN) and (BABA). These companies hold significant market share in their respective geographies. But they are also truly multifaceted e-commerce companies that deal in retail but specialize in entertainment, cloud computing, and logistics.
Second, traditional retailers need to realize that it's not a competition between brick-and-mortar and e-commerce. They are next to benefit if they can flex their operations to accommodate for both in-person and online shopping (or omnichannel operations like buy-online-pickup-in-store [BOPIS]). Even a company with most of its operations in brick-and-mortar would benefit from some of the underlying e-commerce technology like inventory tracking. (WMT) has been one large retailer that has been successful at transforming its operations. The company's e-commerce sales were 14.0% of U.S. net sales in 2Q23 versus 11.9% in 2Q22. Walmart reports its earnings on November 16. I expect to hear commentary on broad consumer demand, e-commerce, discount shopping, and holiday spending with broad readthroughs for the retail space.
Lastly, logistics companies need to be able to modernize their operations to keep up with the changing e-commerce landscape. This is true for all logistics companies, but especially relevant for companies with last-mile operations (the leg ending at the consumer's home) like (FDX) and (UPS). As e-commerce needs increase, consumers require faster and sometimes smaller deliveries to urban areas. These logistics companies would benefit from a higher volume of delivery as long as service levels do not deteriorate. (Remember from the pandemic that supply chains are fragile and an unexpected increase/decrease in demand can throw off operations significantly.)
What ETFs Can Benefit?
There are several e-commerce ETFs that  hold the companies mentioned above. These are mostly broad ETFs that fall under the thematic category, although many have close ties to consumer discretionary/retail ETFs. Besides consumer discretionary names, these ETFs also hold technology, communications, and industrial stocks. I expect that these ETFs may fall in performance along with retail sales. But I believe they are better able to withstand downturns in consumer demand as e-commerce continues to take market share in total retail sales.
During retail earnings season (particularly this week), I expect 4Q commentary on weaker consumer demand and potentially lower holiday spending as consumers look to save money. This allows online retailers and other retail giants to take share with sales and discounts.

Bottom Line:
With consumers still looking to spend on entertainment, they have been cutting back in other areas. I believe consumers looking for discounts will benefit from two main areas. One is e-commerce, which offers significant discounts. The other is the staples sector, particularly discount retailers (discussed in more detail in next week's note).
For more news, information, and analysis, visit the ETF Education Channel.