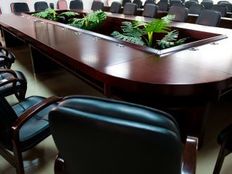 Environmental, social, and governance (ESG) issues are increasing priorities for corporate boards of directors. As such, investors should stay abreast of how boards are prioritizing ESG and implementing changes to that effect.
Of course, monitoring ESG developments at dozens or hundreds of publicly traded companies is a tall order that underscores the benefits of turning to exchange traded funds such as the (QQMG B-).
The Conference Board's recently published "The Roles of the Board in the Era of ESG and Stakeholder Capitalism: Overview and Key Insights" report shed light on how boards are handling ESG matters while highlighting some issues of importance to investors.
"Today boards are responding to both a heightened focus on environmental, social & governance (ESG) issues and a shift toward addressing the long-term welfare of multiple stakeholders," noted the Conference Board. "This third wave of governance change is not primarily focused on compliance with new rules. Instead, it is characterized by addressing market forces—whether they be in capital markets, labor markets, or the market for goods and services."
Highlighting the potential long-term allure for an ETF such as QQMG is the point that respondents to a poll conducted by the Conference Board indicated that they expect environmental, social, and governance priorities at the board level will be a long-lasting theme.
"A total of 68 percent of respondents to our 2022 survey of 80 general counsel and corporate secretaries believe that ESG will have a significant and durable impact, while 53 percent say the same about stakeholder capitalism. About 20 percent say the impact of each will decrease over time," according to the Conference Board.
The report also confirmed that ESG priorities are changing over time. Avid ESG investors already spot some of those changes, including more emphasis on social and governance issues. That pinpoints the need for flexible, responsive ESG investments. QQMG checks those boxes.
Another point that could work in favor of QQMG over the long haul is that boards have flexibility in terms of implementing ESG changes and policies.
"The board still has broad decision-making, oversight, and advisory roles, but now it's addressing a broader array of topics and engaging more directly with stakeholders (investors, as well as employees and potentially others) than before. Boards will increasingly look to management for more information on these new topics, including reports that track progress on issues," concluded the Conference Board.
QQMG debuted in October 2021 and holds 91 stocks, 60.13% of which hail from the technology sector.
For more news, information, and analysis, visit the ETF Education Channel.