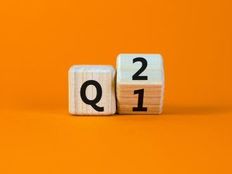 On a historical basis, stocks' Q2 seasonality is interesting and mostly positive. Over the past decade, the S&P 500 averaged an April gain of 2.4% — good for the best month of the year for the benchmark domestic equity gauge.
The S&P 500 averaged a gain of 0.4% in May before notching an average annual decline of 0.4%. History isn't guaranteed to repeat, but as of April 7, the S&P 500 is higher by 7% year-to-date, with much of that rally attributable to large- and mega-cap growth stocks.
That could be good news for exchange traded funds such as the (QQQ B+) and the (QQQM B). The two ETFs, which track the Nasdaq-100 Index (NDX), are up 19.44% this year, as of April 7. That's confirmation that some big names in the two ETFs are proving strong to start 2023, and with some professional investors expecting a bumpy back half to 2023, the growth profiles offered by QQQ and QQQM could be appealing to investors.
"2023 will be a year of very modest gains as part of a messy post-crisis normalization similar to 2002-2003 and 2010-2011, with choppy conditions over the next few quarters amidst cuts to earnings forecasts, a bumpy moderation in inflation, and uncertainty regarding a transition in Fed policy and the onset of a challenging economy," said Graeme Pearson, RBC global head of research, in a recent report.
Several of RBC's top picks for the current quarter reside in QQQ and QQQM. That group includes Facebook parent (META), which accounts for 3.70% of the ETFs' rosters.
"In possessing both the largest user base as well as the deepest amount of knowledge of that user base, we believe Meta can compound 15-20% earnings growth once it gets through its currently elevated investment cycle around AI," according to RBC analyst Brad Erickson.
The research firm is also constructive on (FANG) — one of just two traditional energy stocks residing in QQQ and QQQM. RBC analyst Scott Hanold highlighted Diamondback's solid cash flow position and dividend coverage as among the factors that could support the shares.
"The company is one of a few that have amassed a combination of quality assets, strong economic growth, minerals ownership, and a water business, which collectively help to provide a competitive advantage," he noted.
Other QQQ and QQQM holdings that RBC is bullish on are (CRWD) and cybersecurity giant (PANW).
For more news, information, and analysis, visit the ETF Education Channel.