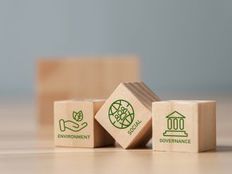 Last year, growth stocks stumbled due in large part to the Federal Reserve's intense campaign of interest rate tightening. As a result, a slew of environmental, social, and governance (ESG) exchange traded funds delivered disappointing annual performances.
Fast-forward to 2023 and the scenario is markedly different. Helped in large part by enthusiasm for the artificial intelligence (AI) investment theme, growth stocks are rebounding with a vengeance. This provided ballast to a variety of ESG ETFs. That includes the (QQMG B).
As of July 27, QQMG is up nearly 42% year-to-date. That includes a second-quarter gain of almost 15%, which helped the Invesco ETF to rank as the best-performing large-cap sustainable fund during the April through June period. To be precise, QQMG delivered better than double the returns of the average large-cap sustainable fund during the June quarter.
Magnificent Seven Driving QQMG Gains
QQMG follows the Nasdaq-100 ESG Index, which is the ESG equivalent of the popular Nasdaq-100 Index (NDX). As such, QQMG's roster is slightly smaller than that of an NDX-tracking fund. However, QQMG features more than adequate exposure to the "magnificent seven" – the cohort of mega-cap growth stocks that are driving broader market returns this year.
"On average, nearly 59% of the fund's holdings were in tech over the previous quarter. The top six holdings of the fund at quarter-end are part of the elite group of mega-cap stocks known as the Magnificent Seven; over 41% of the fund's total portfolio is concentrated in (AAPL), (MSFT), (NVDA), (AMZN), (TSLA), and (GOOG)," noted Morningstar analyst Francseca Campo.
QQMG's second-quarter leadership among ESG ETFs is impressive when considering no large-cap funds in this category delivered negative returns during that period. That's confirmation that large-cap ESG funds' above-average exposure to the technology, communication services and consumer discretionary sectors is benefiting investors. Specific to QQMG, those groups combine for over 80% of the ETF's portfolio.
QQMG features another perk: It's passively managed. As Morningstar's Campo pointed out, investors pulled money from large-cap ESG funds in the second quarter. This means active fund managers had to reduce positions in some of the aforementioned hot stocks to meet clients' redemption requests.
"It's harder to manage a fund during outflows, because fund managers are pressured to sell off poor performers that they would otherwise let ride," observed Alyssa Stankiewicz, associate director of sustainability research at Morningstar.
For more news, information, and analysis, visit the ETF Education Channel.
---
Content continues below advertisement