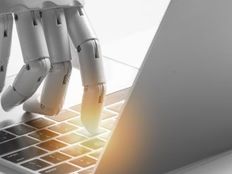 Through the first two months of the this year, it's undeniable that the artificial intelligence (AI) investment theme is generating plenty of buzz.
That buzz is being accompanied by some considerable praise on Wall Street. For example, in a Tuesday note to clients, Bank of America analyst Haim Israel said that artificial intelligence is having its "iPhone moment." Fortunately, some familiar exchange traded funds, including the (QQQ B+) and the (QQQM B), provide investors with robust AI exposure while removing the need to stock pick in the space.
"We are at a defining moment – like the internet in the '90s – where Artificial Intelligence (AI) is moving towards mass adoption, with large language models like ChatGPT finally enabling us to fully capitalize on the data revolution," wrote Israel.
The Bank of America analyst included a list of eight AI equity ideas for investors to ponder. Good news: Six of those names are members of the Nasdaq 100 Index (NDX) — the underlying benchmark for both QQQ and QQQM.
Microsoft (NASDAQ: MSFT) and Google parent Alphabet (NASDAQ: GOOG) are viewed as AI leaders at the moment, and while those stocks combine for almost 19% of the QQQ and QQQM portfolios, the Invesco ETFs feature other AI inroads. Those include semiconductor behemoth Nvidia (NASDAQ: NVDA), which is the third-largest technology component in the ETFs.
Bank of America analyst Vivek Arya points to "the company's supercomputer presence as one of its AI strengths. He forecasts that AI momentum could help Nvidia reach $80 billion in revenue and greater than $14 in earnings per share by 2027," reported Samantha Subin for CNBC.
Bank of America is also constructive on Apple (NASDAQ: AAPL) and Facebook parent Meta Platforms (NASDAQ: META) as potential AI winners. Apple is the largest holding QQQ and QQQM and combines with Meta to command more than 15% of the ETFs' rosters.
Meta is spending big to refine its AI supercomputer. If successful, that effort could pay dividends in the form of better ad targeting, helping Meta cement one of the dominant grips on the internet advertising market.
"Meta's large user base should attract content creators, and we believe Meta has opportunity to develop superior content & targeting capabilities vs peers," according to BofA analyst Justin Post.
Combine the stocks mentioned here, and that's close to 40% of the rosters of QQQ and QQQM, confirming that the ETFs are highly relevant AI plays.
For more news, information, and analysis, visit the ETF Education Channel.