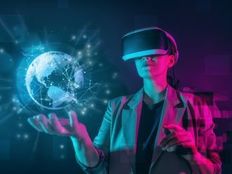 The still-young metaverse investment thesis took plenty of lumps in 2022 amid a deterioration in growth stocks, but that also serves as a reminder that disruptive technologies – of which the metaverse is one – often require patience from investors.
Fortunately for market participants, there are prudent avenues for accessing the metaverse investment thesis, including exchange traded funds such as the (QQQ B+) and the (QQQM B). Homes to a slew of familiar large- and meg-cap communication services and technology stocks, QQQ and QQQM make for practical avenues for market participants looking for metaverse exposure.
QQQ and QQQM offer metaverse investors the benefits of eschewing stock picking and avoidance of smaller stocks, which are often more volatile in the disruptive tech arena. Plus, QQQM in particular, is ideal for long-term investors, which is the appropriate way to view the metaverse.
"Interest is piquing for good reason. The metaverse is an immersive virtual world built on established gaming, virtual reality (VR), and augmented reality (AR) elements. At this juncture, it is much like the internet of the early 1990s or the smartphone of the early 2000s: We expect it is going to be big, and very likely change people's daily lives. But we don't yet know exactly how, or how big the shift will be," according to BlackRock research.
Among the crucial metaverse foundations are rising computing power and a variety of new hardware concepts – themes to which a variety of QQQ and QQQM components have exposure.
"Those who already spend time in virtual spaces are using old technology where the screen is the limiting factor. VR headsets and AR glasses, along with powerful 5G mobile networks, will take this to the next level," added BlackRock. "We could see a breakthrough in AR glasses ― a version light and smart enough to be worn every day ― as soon as 2023. VR headsets will modernize as well but are less likely to be the 'game changer' given they are not as easily worn on the move."
As avenues to metaverse-relevant companies, QQQ and QQQM offer investors the breadth necessary to capitalize on this theme as well as a multitude of other innovative technologies, underscoring the long-ranging utility of these funds.
"Secular growth trends, such as digitalization of industries and an ever-growing reliance on data analytics, are multi-year transformations we expect to persist ― irrespective of moves in interest rates. The metaverse is just one reminder of the vast opportunity driving long-term return for investors across the technology universe," concluded BlackRock.
For more news, information, and analysis, visit the ETF Education Channel.