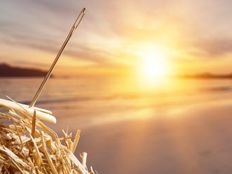 Buy low, sell high. Every advisor wants to follow this rule but doing so consistently is hard. A new ETF that launched today seeks to make it easier to use artificial intelligence (AI). 
The is a new actively managed ETF built on the premise that stock prices are sometimes temporarily driven to levels below their fair market value, creating potential opportunities to profit from a short-term bounce. The AI technology behind DIP analyzes thousands of factors on hundreds of stocks simultaneously, identifying potentially profitable patterns and opportunities in fractions of a second. 
DIP's AI was developed at Kaiju ETF Advisors, a diverse group of physicists, mathematicians, financial behaviorists, data scientists and analysts, cryptographers, and computer programmers.
"We were surprised to see that artificial intelligence technologies were not being used to help the general public," explained Ryan Pannell, CEO of Kaiju ETF Advisors, the manager of DIP.  "The amount of data that can be processed by machine learning far exceeds what a manager could handle.
If it feels like the ETF might be a more intelligent way of benefiting from the reversion to the mean premise, that is because that's what the fund is aiming for.
The new ETF will focus on large-cap stocks from within the S&P 500 Index and the NASDAQ-100 Index with high liquidity by owning between 25 and 100 positions that are hopefully "the right stocks for the right market environment." However, using a short-term series of criteria to identify what stocks were artificially mispriced, positions will typically be replaced within seven trading days after a hopeful oversold bounce occurs. 
According to Pannell, the goal is for DIP to catch this one little piece of price action and then management is going to move on to the next one. However, the fund will also occasionally use market-cap weighted index ETFs like the and the )+ to maintain market exposure and produce a smoother ride for investors. 
"To be clear, this is not timing the market. We're not trying to figure out when the market is going to hit bottom or rebound," added Pannell. "We are looking for specific stocks that are temporarily depressed and should rebound, based on certain conditions around those stocks. It's event-based, and it's very short-term."
DIP is looking for specific needles in a haystack of needles aided by artificial intelligence. It will be interesting to see how much smarter computers can be than the hard-to-beat broader index ETFs DIP will occasionally invest in.
For more news, information, and analysis, visit the .