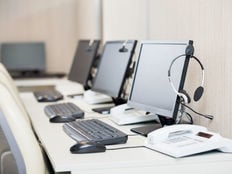 PCs, be they desktops or laptops, are no longer considered "high tech." Rather, they're essential parts of everyday life around the world. As a result, many investors don't view this as the high-octane market segment it was several decades ago.
That doesn't mean related investment opportunities are limited. Quite the contrary. While the PC market endured a slump over the past couple of years, some analysts believe it's primed for a resurgence and that rebound could bring positive implications for exchange traded funds such as the Invesco QQQ Trust (QQQ B+) and the Invesco NASDAQ 100 ETF (QQQM B).
Indeed, PCs represent one of the slowest growth corners of the tech sector. But consumers and businesses still need to periodically refresh their tech stack. That upgrade cycle could benefit plenty of members of the QQQ and QQQM rosters.
"If you assume that users replace their PCs every four years, which is the five-year pre-COVID average, that about 65% of the current PC installed base or roughly 760 million units is going to be due for a refresh in 2024 and 2025," noted Morgan Stanley hardware IT analyst Erik Woodring.
Pulse on PC Market Outlook
For investors looking to capitalize on the PC upgrade cycle, QQQ and QQQM could be ideal options. Both ETFs allocate nearly 49% of their rosters to the tech sector. Within that are plenty of companies with direct ties to PC sales, including Apple (AAPL), Microsoft (MSFT), and to a lesser extent, Google parent Alphabet (GOOG).
Add to that, QQQ and QQQM are homes to an array of semiconductor equities with direct ties to the PC space, including Intel (INTC) and Advanced Micro Devices (AMD). Perhaps adding to prospects of a PC market rebound are expectations that the bounce back will be driven by corporations.
"We think the replacements and upgrades in 2024 and 2025, will come from the commercial market. With 70% of our 2024 PC shipment growth coming from commercial entities. Commercial entities are much more regular when it comes to upgrades. And they need greater memory capacity and compute power to handle their ever-expanding workloads," added Woodring.
The analyst also points to generative artificial intelligence (AI) as a potential driver of increased PC demand. Because that nascent industry requires increased, higher-cost computing power. That could boost a slew of QQQ and QQQM member firms, including chip makers such as AMD and Nvidia (NVDA).
For more news, information, and analysis, visit the ETF Education Channel.
---
Content continues below advertisement