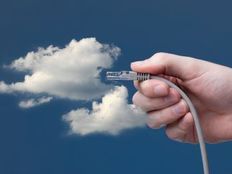 Environmental, social, and governance (ESG) efforts and standards are applicable across a variety of industries. Likewise, an assortment of industries can help others realize carbon-cutting and ESG goals.
The (QQMG B) is among the exchange traded funds that are relevant on both of the aforementioned fronts. For example, some analysts believe that cloud computing is an industry playing an increasingly prominent part in helping other industries reach ESG goals.
"The rising footprint of cloud services across healthcare, automotive, media, gaming, financial services, public services and e-commerce has furthered the need to bolster the sustainability profile. Brands are expected to use AR/VR, edge computing, big data, blockchain and cloud-native technologies to foster brand recognition, complement sound corporate behavior and bolster sustainable investing," according to a recent report from Astra ESG Solutions.
Due to its ties to the Nasdaq-100 Index (NDX) — QQMG tracks the ESG equivalent of that benchmark — the Invesco ETF is relevant in this conversation because it is home to companies with exposure to the aforementioned industries as well as some of the biggest cloud computing names.
For example, QQMG allocates 6.50% of its weight to healthcare stocks and has decent exposure to augmented/virtual reality and gaming by way of holding Facebook parent Meta Platforms (NASDAQ: META), Activision Blizzard (NASDAQ: ATVI), and Electronic Arts (NASDAQ: EA).
"ESG strategies have gained prominence in the wake of surging environmental awareness and consumers' willingness to pay premium prices for sustainable products. Environmentally and socially conscious practices have become prevalent to attract and retain investors and customers. Cloud computing service providers have exhibited profound traction to expedite their ESG progress," noted Astra ESG.
On that note, QQMG's exposure to companies with dedicated cloud operations is potentially attractive to investors. For example, Alphabet (NASDAQ: GOOG), parent of Google, represents 6.27% of the QQMG portfolio.
Likewise, Amazon Web Services (AWS) and Azure — the two largest cloud companies in the world — could see ESG prominence increase in the years ahead. Azure owner Microsoft (NASDAQ: MSFT) and Amazon (NASDAQ: AMZN) combine for over 16% of QQMG's lineup.
Some QQMG member firms, including Microsoft, credibly check other ESG boxes.
"Diversity representation and the emphasis on inclusivity have become a viable portfolio to foster a positive change within the company and across societies. Prominently, women account for over 30% of the Microsoft workforce globally. Moreover, women in technical roles have risen between 1.4 and 1.6% points over the past half a decade," concluded Astra.
For more news, information, and analysis, visit the ETF Education Channel.