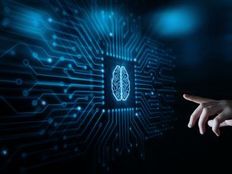 One of the prominent themes emerging early in 2023 is ongoing proliferation of artificial intelligence (AI) technologies, led in large part by attention being heaped upon the now-famous ChatGPT service from OpenAI.
As a result, some market participants are considering new exposure to AI-related stocks and exchange traded funds. On that note, there are multiple options to consider regarding dedicated AI and robotics ETFs, but those thematic funds aren't for every investor.
Fortunately, the (QQQ B+) and the (QQQM B) provide robust exposure to companies with direct AI ties and afford risk-averse investors the opportunity to tap into the long-term potential of the AI investment thesis while avoiding some of the risks associated with thematic funds.
Take the case of Microsoft (NASDAQ:MSFT), which is the second-largest holding in both Invesco ETFs. The tech giant recently said that it could integrate GPT-4 into its Bing search engine. Microsoft is an investor in OpenAI.
"While investing significant capital in the OpenAI platform to incorporate new features into existing Microsoft programs, Microsoft is set to work alongside OpenAI to create a game-changing technology fully integrated into MSFT over the next decade in our opinion," wrote Wedbush analyst Dan Ives in a report out last month. "While ChatGPT is naturally a high cash burn situation today, we view this as a strategic step for Nadella & Co. to double down on its artificial intelligence strategy as more use cases boost unprecedented demand for AI solutions with more use cases emerging."
Google parent Alphabet (NASDAQ:GOOG), also a top-10 holding in QQQ and QQQM, has clear AI ambitions of its own, which CEO Sundar Pichai highlighted on the company's fourth-quarter earnings conference call.
"How we unlock the incredible opportunities AI enables how we focus our investments," Pichai said during the call. "AI is the most-profound technology we are working on today."
Facebook parent Meta Platforms (NASDAQ:META) — another marquee holding in QQQ and QQQM — could be another mega-cap growth name that makes waves in the AI space. Bank of America analyst Justin Post recently noted that Meta could morph into a "multi-year artificial intelligence [and] machine learning improvement cycle."
Meta founder and CEO Mark Zuckerberg recently told analysts and investors that the AI progress the company is making on its discovery engine and Reels is starting to pay dividends.
For more news, information, and analysis, visit the ETF Education Channel.