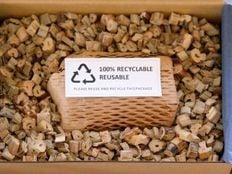 When it comes to consumer packaged goods, data confirm that shoppers are drawn to products that tout varying forms of environmental, social, and governance (ESG) benefits. Think "fair trade" coffee and "eco-friendly" cleaning products, among others.
A recent survey conducted by consulting firm McKinsey and NielsenIQ indicated that consumers aren't just drawn to packaged products espousing ESG virtues, but they're willing to pay up for those products as well. With that in mind, it's not a stretch to say that some investors are drawn to exchange traded funds with the ESG label.
That could be a long-term benefit for funds such as the (QQMG B). Specific to QQMG, its label is compelling on multiple fronts. Not only does it make clear to investors that it's an ESG ETF, but it also highlights its ties to the vaunted Nasdaq 100 Index (NDX) — a benchmark with a history of outperforming other domestic equity gauges by wide margins over extending holding periods. However, there's more to the story.
"Most important is what lies behind these product claims—the actual contribution of such business practices to achieving goals such as reducing carbon emissions across value chains, offering fair wages and working practices to employees, and supporting diversity and inclusion. But understanding how customers respond to social and environmental claims is also important and has not been clear in the past," noted McKinsey.
For investment products such as QQMG and its stablemate, the (QQJG C+), the McKinsey report contains some other potentially interesting tidbits.
"In a 2020 McKinsey US consumer sentiment survey, more than 60 percent of respondents said they'd pay more for a product with sustainable packaging. A recent study by NielsenIQ found that 78 percent of US consumers say that a sustainable lifestyle is important to them," noted the firm.
One way of looking at that statement is that ESG virtues are increasingly a priority to consumers, and some of those consumers are likely to extend that sentiment to their investment portfolios.
As is the case with consumer products, funds that make bombastic ESG claims or those without the credentials to back up related assertions run the risk of driving investors away. Add to that, issuers committing those offenses could draw the ire of regulators. Fortunately, the straightforward approaches adhered to by the indexes that QQMG and QQJG track keep investors levered to legitimate ESG investing.
For more news, information, and analysis, visit the ETF Education Channel.